What we love most about Echuca
April 2018 In Suburb Specific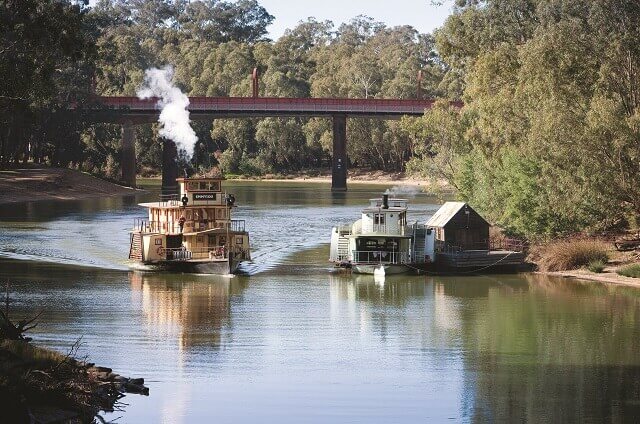 Set on the banks of the Murray River in the heart of the Loddon Mallee Region, you'll find the delightful Victorian town of Echuca and its New South Wales counterpart, Moama.
If you've never had the opportunity to experience this gorgeous corner of the country, you've been missing out. With a warm and sunny climate, a beautiful natural setting and the best of old-world charm perfectly complimented with a contemporary character, there's so much to love about Echuca.
Its beautiful natural setting
There's no doubt the beauty of Echuca stems from its enviable location on the Murray River.
Celebrated as Australia's longest river, the Murray offers up plenty of opportunities for locals and visitors to get outdoors and cool off water-side, whether it be with some swimming, boating, fishing or water-skiing—something that has made it a favourite holiday spot for generations of Australian families.
The many parks scattered along the Murray also hold the title as the largest river red gum forest in the world, offering an abundance of flora, fauna and wildlife which make it an ideal location if you enjoy bird watching, bush walking, cycling or camping.
If you enjoy getting outdoors and embracing the spoils of nature, then you're going to love what Echuca has to offer. However, if you would prefer to take in the scenery is from the comfort of your car, there are also plenty of nearby towns and attractions to explore.
With so many quaint, character-filled towns within easy reach from Echuca like Barnham, Koondrook, Cadell Fault, Cohuna, Girgarre, Gunbower, Kyabram, Lockington, Mathoura, Rochester, Rushworth, Stanhope, Tongala, Torrumbarry and Womboota, it'll only take a couple of day trips to become well-acquainted with the natural beauty throughout the region.

Its old-world charm
Having played an integral role contributing the to the growth of the Australian economy by facilitating trade, it's hard to ignore the history of this river-side town.
With its unique positioning as the closest town to Melbourne on the Murray River, Echuca historically provided a home-base for the growing riverboat trade, essentially opening-up inland Australia for settlement and the increased production of goods (namely wool). By the mid-1800's, Echuca had become one of Australia's busiest inland ports using paddle steamers to ferry goods through the river network.
This proud history and old-world charm has not been lost in the Echuca of today, with numerous heritage building and many other reminders of its pioneering history scattered throughout the town, with the Wharf and Port of Echuca offering the best taste of this bygone era. Home to the largest fleet of paddle steamers in the world, the port which has been declared as a historic precinct offers the opportunity to find out more about the rich history of the region and explore the restored century old buildings.

Its contemporary character
While Echuca possesses a rich pioneering history, it is also perfectly balanced by its present-day contemporary character. If you love the cosmopolitan lifestyle that comes with city living but are craving a more tranquil setting, you'll absolutely love Echuca.
Starting with the great selection of local vineyards and wineries at your disposal, there are also plenty of stylish eateries and contemporary dining options to choose from in the area including Junction which features an uber-trendy fit out and specially crafted menu, Ceres which boasts an Italian feel with a modern Australian twist, Morrisons with its breathtaking river-side setting, or The Sweet Meadow plant-based health bar which is sure to please health-food enthusiasts amongst us.
Then there's the happening vibe that comes with the many exciting festivals and events hosted in the area like the annual Echuca Moama Winter Blues Festival, the Flavours Food and Wine Festival, the Riverboats Music Festival, Echuca Steam Rally or the Southern 80 Ski Races to name a few.

Make the move to Echuca
Once you've got a taste of its unique historical feel, contemporary character and beautiful natural setting, it's hard not to fall in love with Echuca. You really do get to enjoy the best of all worlds!
Now Dennis Family Homes makes it easy for you to make the move to Echuca, with a great range of house and land packages to choose from with a wide range of home designs. To find out how to make it happen, contact us or visit our Echuca Office Display Centre.
You could be enjoying the Echuca lifestyle before you know it! 
Your trusted Melbourne Home Builder – Dennis Family Homes – A Family Building Homes for Families 
Includes information sourced from:
Back To Articles