Dennis Family Homes' unparalleled Knockdown Rebuild Service
April 2022 In Knockdown Rebuild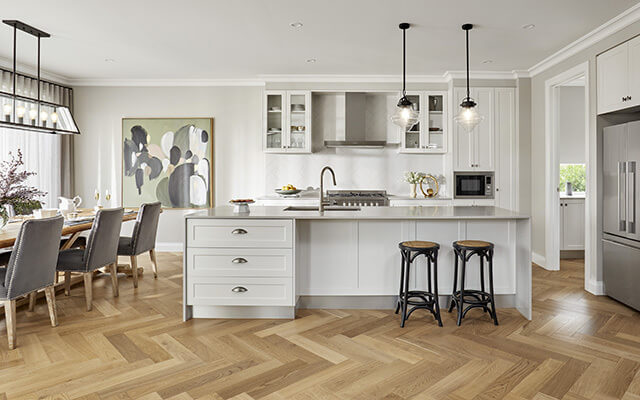 Rebuilding a new home is a rare chance to watch a long-held dream come to life.
At Dennis Family Homes, we know what a huge privilege and responsibility it is to help you create your forever home and welcome you to experience our unparalleled Knockdown Rebuild service. We look forward to working togther with you to build an impressive, modern home that will be unique to you and your family.
What makes our process seamless
When you build with us, we'll be there alongside you every step of your knockdown rebuild journey, ensuring it's supportive and seamless. We're there to reassure you from our very first conversation right through to the magical moment you receive your new keys. We're open and honest all the way through, and we won't make any promises we can't deliver on.
Our dedicated team
For each and every one of our clients, we dedicate a group of highly skilled and experienced team members who strive to exceed your expectations. Our Knockdown Rebuild team will be with you every step of the way. Build with Dennis Family Homes and your dream home will come to life with:
A Knockdown Rebuild Specialist
An experienced Construction Team
A senior Drafting Team
Town planning partners
Interior Designers
Pre-site Team and Building Administrator
The Knockdown Rebuild journey
1) Your Knockdown Rebuild Specialist will conduct a free site inspection
Your Knockdown Rebuild Specialist will take the time to get to know you and your block. Once you provide us with a clear copy of the land title, plan of subdivision, or Section 32, your Knockdown Rebuild Specialist will perform a no-obligation, preliminary site inspection.
If there are any town planning requirements, construction implications, or site access issues—overhead powerlines, site access, vegetations or construction parking, existing swimming pools or similar—we'll identify them early on in the process and be there to give you honest advice and proper guidance.
2) Visit us for your one-on-one design consultation
This is the fun part! We'll take the time to get to know you and your family so we can help you bring your dream home to life. Your Knockdown Rebuild Specialist will work with you and recommend a home design that suits your block, so you can have a beautiful space that resonates with your lifestyle and personal aesthetic.
3) Initial deposit
Your Knockdown Rebuild Specialist will present you with an initial quotation for your design. Once you're satisfied, you make it official by submitting your initial deposit.
4) Confirmation
Your Knockdown Rebuild Specialist will present you with the Confirmation plans and pricing. Then they'll work with you to make sure your home is exactly what you want, including any variations. Next, you sign the Confirmation Document and pay a Confirmation Deposit.
5) Prepare for demolition
Our demolition partner will guide you on how to prepare the property for demolition. This involves disconnecting any services, notifying tenants, and lodging an application for demolition with your local council and relevant authorities. You'll also have to remove any items from the house to ensure the demolition is safe.
6) Town planning
If this is required for your property, we'll help you navigate the process. And our appointed Town Planner will help you understand and complete town planning reports, plans and documents required for a successful application.
7) Showroom appointment
Working alongside one of our Interior Designers, you'll visit our state-of-the-art Showroom. This is where you'll get inspired to explore all of the options available and select luxurious finishes that will bring your style and a personalised touch to your home. Plus, see your dream come to life with Vision: our home visualisation tool.
8) HIA contract signing
Your Knockdown Rebuild Specialist will book a contract signing appointment with you. During this time they'll guide you through the Housing Industry Association (HIA) contract. They will explain and check all the finer details with you and ensure you are comfortable with your contract before signing it off.
9) Building permit application and demolition
At this stage, our experienced Pre-Site Coordinator will apply for and prepare the building permit, whilst guiding you on the final construction plan for you to sign off. You will then need to arrange for your house to be demolished before we begin construction.
10) Construction
And so the rebuild begins! Our highly skilled construction team will now begin building your forever home. Your Site Manager will be in touch with you regularly to keep you updated on the progress of your build, so you can sit back and relax while your dream becomes a reality.
The benefits of our Knockdown Rebuild process
After sharing the rebuild journey with so many families of all tastes and types, we've developed a deep appreciation for the things that really matter. So when you choose to knockdown and rebuild with us, know that your experience will be smooth and seamless. And we'll strive to make the process of building your forever home something to cherish.
Whether you're ready to build your forever home in the location of your dreams, or just wondering how to get started, speak to a Dennis Family Homes Knockdown Rebuild Specialist for a no-obligation, one-on-one design consultation today.
So let's rebuild you a better life. Click here, call 1800 DENNIS or visit one of our two displays (Berwick Waters Estate, Clyde North or The Maples Estate, Greenvale) to speak with a Knockdown Rebuild Specialist today.
Back To Articles