The pros and cons of buying a display home
August 2018 In Investment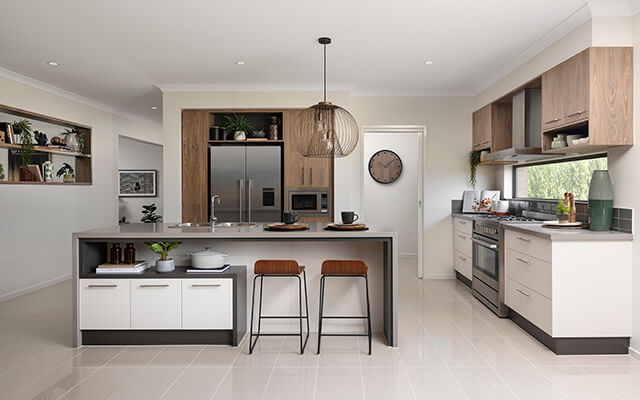 If you're in the market to buy a home with plenty of space and style, a house and land package could be the answer. But before you sign on the dotted line, there is another alternative you may not have considered—buying a display home in Melbourne.
As with any home purchase, there are various benefits and downsides to buying an ex-display home that you need to consider, so here are a few of the key pros and cons to help you work out if it could be the right option for you.

The pros
Premium fittings and fixtures: Display homes are renowned for their superior quality. Because builders use display homes to showcase the best of what they can offer their customers, they're typically kitted out with premium fittings and fixtures that you may not have been able to afford if you opted to build. Additionally, the home would have been regularly professionally cleaned and maintained to ensure it's always looking its best, so everything should be in tip-top condition.
Surrounded by other quality homes: If the home is positioned within a display village, it's likely to be surrounded by other ex-display homes that were finished to a premium standard in a beautifully presented street.
Leaseback rental return: If you're not in a rush to move in, you can earn some good money from your property in the meanwhile. Quite often builders sell their display homes then rent them back from the landlord (typically at higher than average rental rates) for a specified time while they're still building homes in the area. Depending on the length of the lease period, you could even end up moving in sooner than if you were to build a new home. You may even be given the opportunity to purchase some of the ex-display furniture at a discounted price.
They're ideal for investors: In addition to potential leaseback rental returns, investors can also benefit from a range of other perks. Not only will you generally earn higher than average rental returns, but you'll also save on property management fees and can still claim depreciation on the home.

The cons
Stamp duty: When you build a new home, because the home isn't yet built when you make the purchase, you'll only need to pay stamp duty tax on the price of the land. However, when you buy a display home, because the house has already been built you'll need to pay stamp duty on the total value of both the house and the land.
Limited scope to personalise it: When you build a new home, you'll have creative control to select all your favourite fittings and fixtures to make the home your own. However, when you purchase a display home, those decisions have already been made for you. While you can always make some changes and updates to suit your personal taste and style, it will come at an added cost.
Location: Most estates in new and emerging suburbs are located within close-proximity to major freeways or arterials. While this can be great in terms of connectivity when you need to get somewhere, because display villages are typically located near the entrance to large estates your home may be a little closer to those main roads than you would like.
It's not brand new: While a display home will still be relatively new and fitted with premium fittings and fixtures, it's not brand new. If the home is several years old, you may find some of the appliances are a little outdated and their warranty period has expired. Additionally, while the home has most likely been regularly professionally cleaned and meticulously maintained, there may also be some minor wear and tear left behind from viewers.

The choice is yours
Whether you're keen to purchase a display home or you'd prefer to build a brand new home with a house and land package, Dennis Family Homes can help.
View our current range of display homes for sale to see if there's one that suits you, or visit one of our display centres to find out more about building with the Dennis Family.
Your trusted Melbourne Home Builder – Dennis Family Homes – A Family Building Homes for Families
Back To Articles