Why building a new home could be a great investment
February 2018 In Investment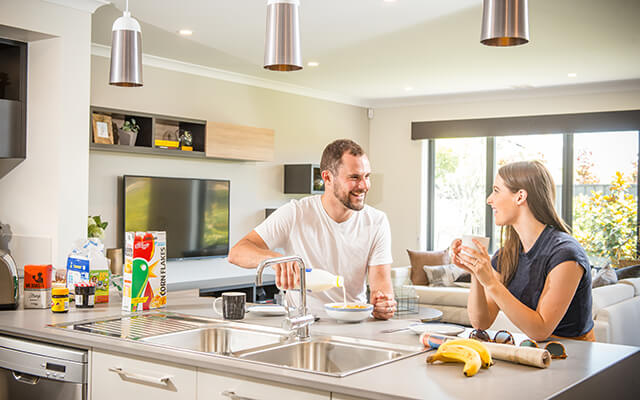 If you're thinking about purchasing an investment property, you've no doubt been weighing up the pros and cons of buying an established property compared to building something new.
While there are various benefits to both options, if you're looking for something that is low maintenance and appealing to renters, while offering a range of tax benefits and an attractive price tag, building could be the answer.
Appealing to renters 
As the well-known phrase goes, "build it and they will come". While with any type of investment property there is never a guarantee that you'll be able to attract high-quality tenants, if you're offering a stylish, contemporary home complete with all the trimmings, it's likely it will be highly appealing to prospective tenants.
You can even build the home to match exactly what the market is looking for. When you build with an experienced builder like Dennis Family Homes, we can share with you the wealth of knowledge we have about the local demographics specific suburb and what renters look for in a home to help you select the ideal investment property.
To keep costs down, our homes come complete with a beautiful and contemporary range of standard inclusions with all the essentials your tenants need to move in straight away. Or if you want to inject some added appeal to draw in the best tenants and a higher rental income, you could even choose upgrade to the Essence or Premium inclusions to position your home a step above the rest.

Less maintenance 
Being a landlord comes with certain responsibilities. In return for the rental payment your tenants hand over to you each month, as a landlord, you're required to ensure you provide a safe, quiet and clean environment and address any issues with the property promptly.
When you purchase an older home as an investment property, it's likely it will require more ongoing repairs and maintenance than a new property would.
The beauty of opting to build your investment property is the entire home is in brand new condition and built to meet current quality standards, so you're far less likely to encounter any structural issues with the property.
In fact, some components of a new home will be covered under the builders' warranty for a number of years, so even if something does require repair or maintenance, you may find there will be no additional cost to fix it. 

Tax benefits
There are also a range of tax benefits that come with opting to build rather than buy established, starting with stamp duty savings.
Because the house hasn't been built yet when you purchase a house and land package, you only need to pay stamp duty tax on the land component of the property rather than the full purchase price—something which can represent a very significant cost saving.
By choosing to build, you can also enjoy some added depreciation benefits. As with any investment property, you may be able to depreciate some structural elements, fittings and fixtures in the home to reduce your overall income and the amount of tax you have to pay. But when you build, because everything in the home is brand new, the depreciation benefits are likely going to be a lot more than what they would be with an older property.
Visit www.ato.gov.au for full tax details. 

Affordable price tag 
Many investors simply pay a premium price for an established property because they don't want the hassle of building, but building is actually a very straightforward and simple process.
By building with an experienced builder like Dennis Family Homes, we have well-established processes which allow you to be as hands-on or hands-off as you like.
We offer fixed price house and land packages in a range of high-growth suburbs and we will take care of everything for you from design, contract preparations right through  construction and completion.
Contact us or visit a display centre to find out more about how building with Dennis could be a great investment opportunity for you. 
Your trusted Melbourne Home Builder – Dennis Family Homes – A Family Building Homes for Families
Back To Articles