Top 5 design features to make your house a home
June 2018 In Interior Design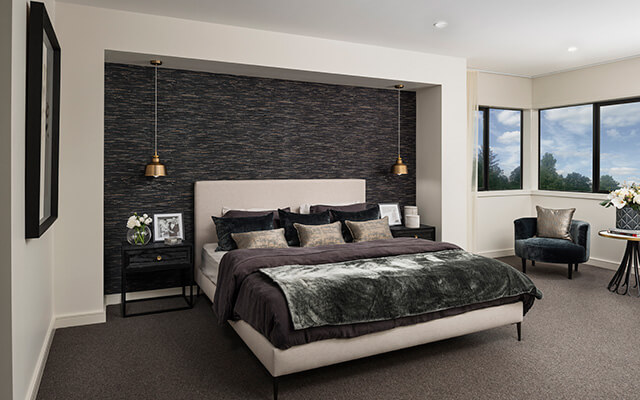 It takes a lot more than just bricks and mortar to make your house a home. A home should not only be comfortable, welcoming and functional, but it should also represent our unique sense of taste and style—and this starts by adding some great design features.
Here are some of our top design feature picks that can help you turn your house into a home in a flash.

Clever storage
To do any design feature justice it needs to be presented in a clutter-free environment—and that starts with investing in some smart storage solutions. Ideally, every room of the home should house a couple of clever storage solutions which allow you to hide away items when you're not using them.
Consider things like under-bed drawers in the bedroom, stylish baskets to hide away nick-nacks in the living room, cupboard and drawer organisers in the kitchen, a make-up caddy in the bathroom, or some large weather-proof storage tubs in the garage. Then for the ultimate storage solution, carefully select some statement furniture pieces that provide storage but also act as a design feature, like a hand-crafted sideboard, unique hallway table or floating bookshelf.

Pendant lights
Lighting not only makes a room liveable at all times of the day or night, it also contributes to the mood and ambience of a room.
Fast becoming one of the most popular ways to inject some added style and impact into a room, there are plenty of pendant styles to choose from. Whether you are drawn to modern or more traditional designs, you can take your pick from a wide range of matte, metallic, industrial, timber or even fabric pendant designs to match your personal style and preferences. You can even mix and match several pendant styles together if you want to create an eclectic or boho look.
When selecting a pendant design, it's important to pay some consideration to the location and size of the space you want to install it in. You can generally opt for a large feature pendant in a wide hallway with elevated ceilings, however you'd probably prefer to opt for a smaller, more subtle design if you're hanging it next to a vanity mirror in a bathroom. It's also important to think about the cord length when hanging pendants, as a pendant hung over a dining table or island bench will need to sit at a different height to a pendant hung over a bedside table.

Wallpaper
Wallpaper can be a great way to add some warmth, interest and character to an otherwise bland room.
The first step is to decide if you plan to do an entire room or a single feature wall. If you plan to do an entire room, you're better off going for a subtle design that won't be too overbearing, whereas if you're only planning to do a single feature wall, you can afford to go a little more 'out there' with a strong or bold patterned design.
The design you select will largely set the tone and overall feel of the room, so it's worth taking some time to ensure sure you make the right decision. Select a design and colour scheme that you can easily extend to the rest of the room to create a consistent style that ties in together.

Feature tiles
Adding some unique, patterned or colourful features tiles to areas like the bathroom or kitchen splashback are another way you can inject some extra personality into a room.
There are plenty of options to consider when selecting a feature tile—coloured tiles can help you create a bold point of interest, patterned or mosaic tiles can add some detail and character to a space, while glass or marble (or marble-look) tiles can elevate the contemporary feel of a room.
When selecting your tiles it's also important to consider how much they are going to cost to install as smaller, fiddley tiles generally take a lot longer to install, costing more to lay.

Wall displays
No home is complete without some wall displays that add some personality and style to your home.
While you can easily spend a fortune on professional prints and artworks, you can also create some beautiful and interesting artistic wall displays without breaking the bank by thinking outside of the box.
Try framing some of the kids' old paintings from kinder for some 'abstract' art that also has a very personal touch. Of you could frame a series of family photos in black and white to create a contemporary look without having to spend a lot. Another cost-effective idea is to do some online searches for royalty-free images that you can download, print and frame yourself. Otherwise, you could also consider using mirrors, some off-centred feature wall hooks or even hanging some interesting items you collected while travelling or at your neighbours' garage sale. 
Your trusted Melbourne Home Builder – Dennis Family Homes – A Family Building Homes for Families
Back To Articles