How to make a statement in the kitchen
December 2018 In Interior Design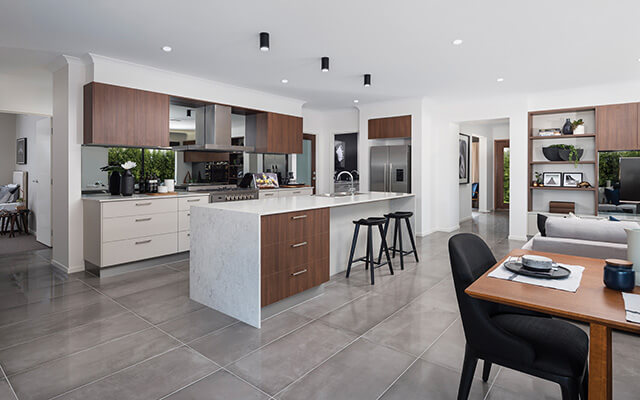 Long heralded as the 'heart of the home', the kitchen is much more than just a place to cook—it's one of the main spaces in the home where your family and friends will gather together whenever it's time to celebrate, entertain or relax, so if you want to make a statement anywhere in your home, the kitchen is the place to do it. 
If you love the idea of a statement kitchen but don't know how to bring the concept to life, here are three simple tricks that will help you transform your kitchen from 'nice' to 'show-stopping'. 

1.   Stand out with a feature splashback 
A feature splashback is a simple and effective way to instantly inject some personality into your kitchen. While your first instinct may be to opt for a safe option like some white subway tiles or a plain glass splashback, if you want your kitchen to make a statement, don't be afraid to be a little more adventurous. 
If you love the look of subway tiles but want something with a little more pizzazz, see if a coloured subway tile could work with the rest of your kitchen and cabinetry. Alternatively, you could opt for a smaller rectangle tile laid in a herringbone pattern to create a glamorous and luxurious look. Small penny round tiles or marble-look hexagonal tiles are also equally beautiful options. 
If you're even more daring, bold options like geometric or Mediterranean-style patterned tiles or even a pressed metal splashback with a black or metallic finish are sure to make your kitchen pop. 
Whatever route you decide to go down, keep in mind that your choice needs to be durable and easy to clean to ensure it can stand up to the tests of a busy kitchen. If you use small tiles or want to lay them in a detailed pattern, make sure you use an experienced tiler who will do a good job and don't be alarmed if it also costs a bit more to install. 

2.   Be bold with colour 
Colour is almost always the easiest way to breathe new life into a space—and the kitchen is no exception. While it's almost definitely a bad idea to install bright orange cabinetry or a purple benchtop, there are ways you can inject some colour into your kitchen without going overboard. 
A simple option is to choose cabinetry that includes open shelving where you can add some styling pieces that will emphasise your favourite colour palette. You can also continue your preferred colour scheme throughout the rest of the kitchen by choosing colourful cook wear or appliances that work with the theme. 
Alternatively, if you want to step it up a level, you could install some colourful pendant lights to add a whimsical touch, use any exposed wall space to create a colourful painted or wall-papered feature wall, or you could get some window treatments made in your favourite colour. 

3.   Embrace interesting patterns and textures 
Using pattern and texture is another great way to make a statement in any room of the home, including the kitchen. 
The most common way to introduce some pattern into your kitchen is to use bold statement tiles for either your flooring or splashback, but another option which is easier (and usually less expensive) to change in the future is to use patterned window treatments. Before you start envisioning nanna's old floral curtains in your modern kitchen, pay a visit to a local custom curtain maker to sample some of the more contemporary options that are available these days. 
If you'd prefer to make a statement using texture, there are a few simple ways you can do it by introducing elements like timber, fabric or metallics in the fixtures, fittings and décor in your kitchen. Try introducing oversized wicker or fabric pendant lights, timber or upholstered stools with your island bench or breakfast bar, or even a steel-framed trolley or shelving if you want to emphasise an industrial look. 

Need more inspiration? 
Want to get some more inspiration for your statement kitchen? A Dennis display centre is a great place to start. Visit any of our display centres to sample our range of striking kitchen designs and get a taste of some of the possibilities when you decide to build a new home with the Dennis family. 
Your trusted Melbourne Home Builder – Dennis Family Homes – A Family Building Homes for Families
Back To Articles