Entertainers Delight: What to look for in a home if you love entertaining
January 2019 In Interior Design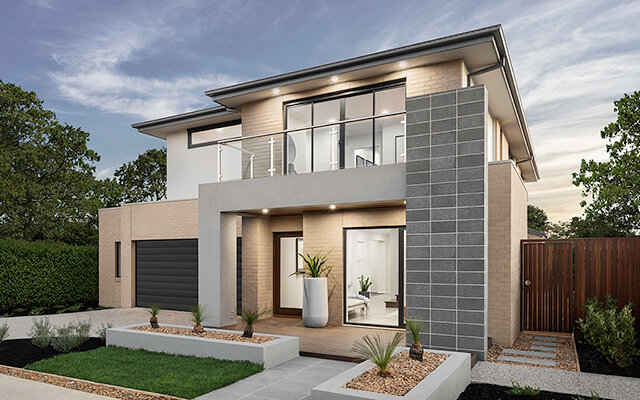 Many of us adapt the way we live to suit our home, but one of the main perks of building is that you can choose a home that will accommodate your lifestyle perfectly. If for you that involves entertaining family and friends at your place, there are a few must-haves you should look for when choosing a home design. 
Here are some key features that are sure to set you up as the ideal host and our favourite home design picks that showcase the best of the best. 
1.   A show-stopping kitchen
Food plays a central role in events and get-togethers in almost every culture, so it's a no-brainer that a show-stopping kitchen is an absolute must-have for any avid entertainer. 
Look for a kitchen with loads of cabinetry including a combination of cupboards, drawers and open shelving which make it easy to store and find everything you need quickly, and fit it out with quality modern appliances that will make cooking a pleasure. 
An island bench is another winner if you love to entertain, as it provides an informal space where your guests can either sit or stand and relax while you're finishing off your food-prep. Finish it off with quality stone benchtops that will not only look amazing, but will also be durable and easy to clean. 
Then there's the real definer that will elevate your kitchen to the next level—the Butlers' pantry. Fast becoming a must-have feature in every entertainers' kitchen, a butlers' pantry not only adds extra storage and prep-space but also gives you a place to hide away dirty dishes until your guests leave.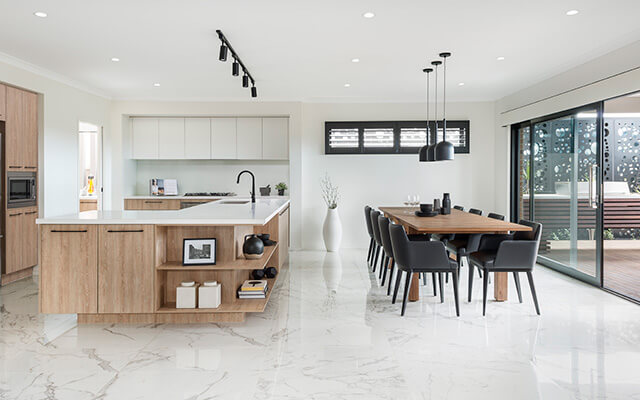 Our pick: The Balmoral
With its large L-shaped island bench, more than ample space to hide all your bits and pieces away when you're not using them, plus an oversized pantry which can be upgraded to a functional and stylish butlers' pantry, the Blamoral epitomises the ultimate in entertainers' kitchens. 
2.   Open plan living 
Open plan living has become the standard in contemporary home design—and for good reason. Open plan design provides a generous space which allows all your guests to relax in a single area of the home without feeling cramped or crowded. 
Aside from adding to the spacious feeling of the home, it also means no one needs to miss out on the action. While all the magic is happening in the kitchen, the cooks can continue to mingle with their guests without ever losing beat of the conversation. 
Our pick: The Macedon
By assigning the bedrooms to one side of the home, the Macedon enjoys a separate and spacious living wing on the opposite side of the home. You're greeted by a spacious entry and living room which continues on to the kitchen, meals, family room and study in the centre of the home. This central hub then flows further to the games room and outdoor alfresco, creating one large, connected entertaining space.
3.   A relaxing alfresco
The best friend of an open plan home design has to be an outdoor alfresco. Enjoying the outdoors is an integral part of the Australian lifestyle, so most of us love having the option to host a barbeque, party or small get-together outdoors while still having protection from the elements.
When connected to the main living space, it expands the usable space of the home by offering guests the option to relax in the comfort of the indoor living area or stepping outside for some fresh air without ever leaving the party.
To amp your alfresco up to the next level, finish it off by creating an outdoor kitchen. Whether you're happy with a stand-alone barbeque or want to go all out and fit it out with an integrated barbeque, benchtop, sink, fridge or pizza oven, your alfresco will be sure to impress!
Our pick: The Charlton
Featuring an impressive alfresco that's larger than most, the real beauty is its clever positioning in relation to the rest of the home—with doors opening to both the family and meals area, it offers you the flexibility to create a single expansive indoor-outdoor entertaining space.
4.   Space galore
Finally, you'll also want enough space to host larger gatherings comfortably. Whether that means having a separate living space that people can retreat to when in need of some peace and quiet, or having an area for the kids to hang out in away from the rest of the party.
If your guests don't live locally, you may also want to look for a home design that includes a guest bedroom complete with an ensuite so your guests can stay the night in comfort and privacy.
Our pick: The Churchill
A home of generous proportions, the Churchill is possibly the ultimate entertainer. With three living areas, a large alfresco, an impressive kitchen complete with an expansive L-shaped island and oversized pantry, plus the added bonus of four bedrooms each with their own private ensuite and walk in robe, you'll be hard-pressed to top it!
Find a Dennis display centre to experience these home designs in the flesh or sample more from our great range of contemporary home designs.
Your trusted Melbourne Home Builder – Dennis Family Homes – A Family Building Homes for Families
Back To Articles