Be inspired by our new Kaduna Park Estate displays
August 2019 In Interior Design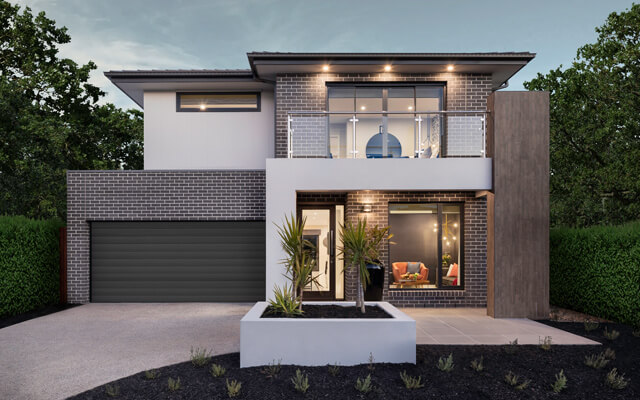 Check out our new Marsden 323B Verve Glass and Hastings 293 Boulevard display at Officer South!
Visitors to Dennis Family Homes new Melbourne display homes at Kaduna Park estate in Officer South will see two of our most popular designs in a new light, thanks to a range of customisation options on show at the stunning properties.
Both homes highlight a range of opportunities for homebuilders to customise a floorplan to suit their own requirements by selecting different layout options available from Dennis Family Homes.
The two storey Marsden 323B features three living areas and four spacious bedrooms with walk in robes, and an open plan living area that extends across the rear of the home.  The gorgeous display at Kaduna Park has been further customised with the handy inclusion of the powder room shower option and a light-filled butler's pantry that's been upgraded to a second prep space, complete with cooktop, sink, dishwasher and additional storage! 
Next door, the Hastings 293 Boulevard next door is a single storey design with a separate bedroom wing for the kids and a spacious master suite at the front of the home.  In this case, the display's floorplan has been modified to demonstrate an option that can offer significant lifestyle benefits.  The home's floorplan already includes a study nook, however this new display reveals how its relocation to an area previously allocated as internal play space results in a larger family area.
Why not drop by the new displays to see firsthand how the selection of a few clever options can create a truly personalised floorplan?
The Marsden 323B Verve Glass and Hastings 293 Boulevard displays are open for viewing at the Kaduna Park estate in Atherton Avenue, Officer between 11am and 5pm seven days a week.
Back To Articles