Most common questions when building a new home
February 2019 In Home Buyers Advice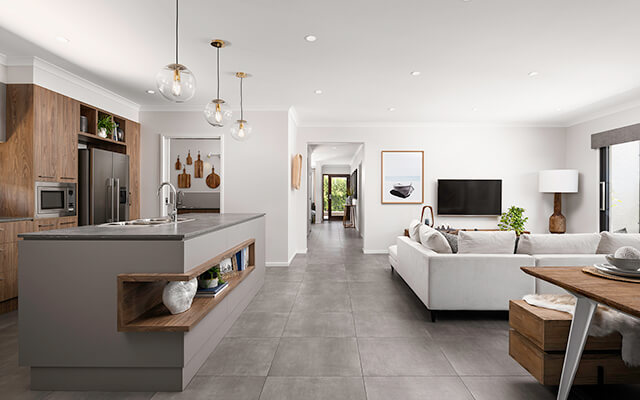 If you're considering building a new home for the first time, the whole process may seem a little daunting. Because you're dealing with something that is still conceptual, it can seem like there are a lot more unknowns—however, that shouldn't deter you. 
To dispel some of the myths associated with building a new home, here are answers to a range of questions we hear time and time again from other customers embarking on their own new home build. 
Can I make changes to the floorplan? 
The simple answer is yes—however there are some caveats you should consider before you get carried away devising grandiose plans. 
If you're purchasing a house and land package, one of the key reasons you'll be offered such a competitive price is because the builder knows exactly much it will cost and how long it will take to build it. When you make changes to the floorplan, your builder will be working with a new set of parameters and the cost and timeline will be impacted accordingly. 
While making some minor changes to the floorplan may not have a drastic impact on the overall build of your home, there's potential for costs to escalate quickly if you want to make more significant changes. 
A key benefit of building with the Dennis family is that you can choose from an extensive catalogue of contemporary homes that have been designed specifically with the needs of families in mind. With so many options, we should have a home and floorplan that suits your requirements without the need to make significant changes or alterations.
How long will it take to build? 
It's a common perception that building a home is a very long process—while that can be true if you're building a custom designed home in a challenging location, that's rarely the case when you build with a volume builder. 
At Dennis Family Homes, we can offer customers shorter build times because we carefully select the locations we build in. By offering packages in locations where we have an in-depth knowledge of the local planning regulations, building permit application process and the composition of the landscape, we're not dealing with as many unknowns—something which allows us to build to tighter schedules. 
When you purchase one of our house and land packages, you'll receive a construction schedule detailing the time frames for your build so you'll know what to expect. Provided you purchase a titled lot (all lots included in Dennis house and land packages are titled), the process is relatively straight forward and you could be moving into your new home in as little as 6-12 months. 
How do I know what's included? 
When you visit display homes from different home builders, you're rarely comparing apples with apples. Builders each offer a range of inclusion packages to suit a range of budgets, so you'll need to look closely at the inclusion options to find the one that best suits your requirements. 
It's not uncommon for buyers to think everything they see in a display home will be included in their home, however that isn't necessarily the case. Things like your floor coverings, driveway, fences, landscaping and window coverings are examples of things that may not be included, so it's important you thoroughly inspect the list of inclusions so you know exactly what you're getting. 
At Dennis Family Homes, we offer a range of inclusion package options to suit every family and budget. If you purchase one of our Aspirations series homes, it will come with a great range of standard inclusions to create a stylish, functional home complete with all the essentials, or if you opt for one of our Inspirations series homes, you'll have the choice between our Essence or Premium inclusion upgrade options which offer a superior level of luxury. 

How will I know what the finished home will be like? 
While you won't necessarily be able to experience exactly what your finished home will be like, you can get a good idea by doing two things: visiting a display centre and viewing the gallery on our website. 
When you visit a display centre, you'll be able to see, walk through and experience exactly what a Dennis Family build is like. While our display homes are generally kitted out with a range of premium inclusion options, you'll still be able to get a feel for the design, floorplan and proportions of your home even if your budget doesn't allow for all the trimmings. 
Then you can pay a visit to our website gallery to see some examples of how we can bring a range of style themes to life in each room of the home. While you'll still have the flexibility to select your favourite colours, fittings and fixtures during your personal colour consultation, our carefully curated style theme options make it easy to see how the finished product can come together. 
Is a fixed price really fixed? 
It is when you build with the Dennis family. Our Quick Start Fixed Price House and Land Packages come with a price tag that is truly fixed. You'll never pay anything extra for site costs, floor coverings or your driveway, so you won't get stung by any unexpected costs down the track. 
Because we construct more than 1000 homes every year, we're able to negotiate highly competitive rates for the range of materials that go into building your home—that's why we're able to build great quality homes for such an affordable price. 
If you want to know more, view some of our other frequently asked questions, check out our range of house and land packages or visit a display centre. 
Your trusted Melbourne Home Builder – Dennis Family Homes – A Family Building Homes for Families
Back To Articles