6 Tips to Make Moving Day a Breeze
June 2019 In Home Buyers Advice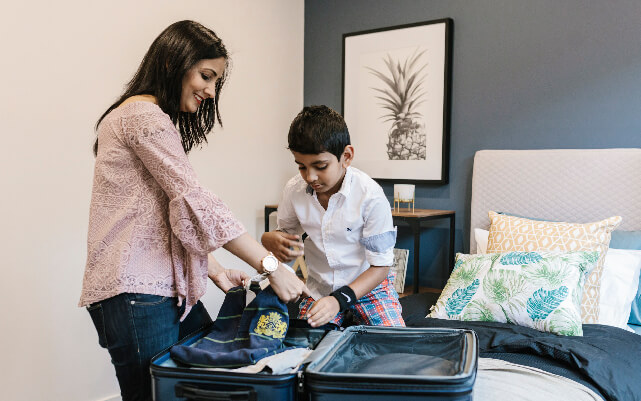 Moving into a new home sure can be exciting, but it can also come with its challenges. Trying to shift your entire life while also juggling the demands of work, children and pets is no easy task, so it's well worth doing some pre-planning to ensure your life doesn't end up in a shambles during the process.
To make the transition to your new home a little less onerous, here are some useful tips to make moving day a breeze.
Tip #1: Think outside the box
You usually have some advance notice before moving house, so use the time leading up to moving day to get yourself organised and work out where you'll source your moving boxes from.
You'll most likely need quite a few of them, so start collecting any medium and large boxes you come across from the time you know you're moving so you don't end up having to purchase them. You could also get resourceful and put a call-out on some local buy, swap, sell or community social media pages to see if anyone from your neighbourhood can give you any boxes they no longer need.
Tip #2: Get packing beforehand
In the weeks leading up to the move, walk around your house and work out what items you're unlikely to use before you move.
It's unlikely you'll need things like vases, photo frames, candles, books and decorative items before you move and packing them away early will make for much lighter work in the days leading up to the move. Make sure you remember to label all of your boxes as you go—this will make the process of unpacking a lot easier and save you having to dig through box after box looking for something at the other end.
Tip #3: Do your shopping early
If you already have all the furniture you'll need for your new place that's great! However, if you will need to purchase a new sofa, dining table or bed, it's best to order it early. Some furniture pieces can come with a long lead-time, so unless you're happy to sit on bean bags or sleep on a blow-up mattress for a while, it's a good idea to do your shopping early.
The same principle applies to your window coverings—if you're building a new home, some buyers forget these aren't included in their package. If you're buying off-the-shelf window coverings, make sure you've got any windows with street frontage and your bedrooms sorted at a minimum. If you're going down the custom-made route, make sure you also account for the manufacturing lead-time so they're ready by the time you move in.
Tip #4: Book services in advance
Unless you're managing the move entirely on your own, you'll most likely need some help from the likes of a removalist company and a cleaner.
Removalist fees can vary significantly between companies, so it pays to do your research. Contact at least three companies for quotes, making sure you also look beyond price alone at factors like the size of the truck (a small truck may require more than one trip), the number of removalists and what their insurance covers. Once you've booked in your removalist, it's also a good idea to call them in the days leading up to the move to confirm they've still got your booking.
You'll also need to leave your old property in good condition ready for the new owners or tenants to move straight in. It's likely you'll already have enough on your plate moving into your new property, so it could be a smart move to book in a professional cleaner to conduct a vacate clean at your old place (this may even be a requirement with some rental contracts).
Tip #5: Pre-arrange your connections
You'll also need to contact your utility providers in advance to ensure your electricity, gas and internet will be ready to use from the time you move in. Unless you're handing over the keys to your old place on the same day you move (which can be very difficult to manage), you may need to overlap your services for a couple of days to ensure you can complete your vacate clean at the old property.
Tip #6: Prepare some moving day essentials
If you've ever moved before, you'll know just how chaotic it can get. An easy way to simplify it is to pack a box with all the essentials you'll need access to while everything is still packed away in boxes. Throw in your phone charger, a change of clothing, some toiletries, a roll or two of toilet paper and some basic cleaning products so you can give things at either property a quick wipe-down as you go.
On moving day, it can also be a lot easier to manage without children and pets around. If possible, see if you can get some help from family or friends to mind them for the day so you can focus on the move. It'll also allow you to set up their bedrooms or space in advance to make the transition to your new home that bit smoother.
Your trusted Melbourne Home Builder – Dennis Family Homes – A Family Building Homes for Families
Back To Articles