A long and proud history of building quality family homes
May 2017 In General News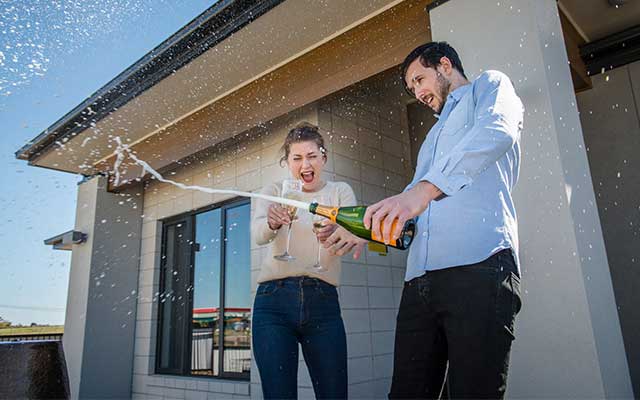 There's no question that choosing the best new home builder can be a difficult task. Not only do you need a builder that offers a good balance between affordability, quality, functionality, style and service, you need a builder that you can trust and rely on.
While it's unlikely the home builder offering the cheapest quote price is going to deliver the highest quality home, a more expensive price tag isn't necessarily a guarantee of an ideal outcome either. Given the best indicator of future performance is past performance, it's integral you research the extent of the experience of your builder or construction company to get a true indication of what you can expect.
With a long and proud history of building quality homes for Australian families, if you're thinking of building a new home in Melbourne, Victoria or southern New South Wales, you can't look past Dennis Family Homes as your builder of choice.
From humble beginnings
The Dennis Family Corporation has come a long way since its humble beginnings in the early 1960s.
Founder Bert Dennis, born the second youngest of five children, was raised in rather impoverished conditions by his mother, regularly moving homes and changing schools. The relative instability of his childhood did however have its benefits—it taught Dennis to become very self-reliant, determined and capable.
Becoming qualified as a Consulting Civil Engineer and being appointed to the role of Deputy City Engineer with the City of Chelsea by only 22 years of age, Bert began the journey of what would evolve into the Dennis Family Homes of today when he met and partnered with retired City Engineer, Oscar Flight. With the purchase, renovation and eventual sale of 12 properties, Bert's career in the property industry was well under way. 
A family building homes for families
When Oscar Flight retired from the partnership in 1965, Bert and his wife Dawn purchased the company outright and embarked on their first small scale land development in Ringwood, in the eastern suburbs of Melbourne.
As a 100 per cent family-owned business, the Dennis Family Corporation has since grown to become one of Australia's leading privately-owned development companies, having created several well-known home building brands and developed hundreds of hectares of land into residential communities.
The Dennis Family Corporation is responsible for the residential development division of the business, with current projects including master-planned land estates Manor Lakes, Westbrook, Modeina and Ashbury in Victoria and several other projects in south east Queensland. The Dennis Family's housing business operates separately under the highly regarded Dennis Family Homes brand.
A reputation built on quality
As one of the most experienced home builders in the business, Dennis Family Homes have stood the test of time.
With honesty, integrity, passion, caring, vision and quality underpinning everything we do at Dennis Family Homes, our commitment to creating quality, stylish and affordable homes is something which has not been lost on Australian families.
Continuing to build approximately 1,000 homes in Victoria and southern New South Wales each year, Dennis Family Homes looks forward to continuing to help Australian families achieve their dream of owning their own home well into the future.
If Dennis Family Homes sounds like the builder for you, contact us or visit a display centre to find out more.
Your trusted Melbourne Home Builder – Dennis Family Homes – A Family Building Homes for Families
Back To Articles