Choose Your Upgrades. Make Your Home Your Own.
February 2020 In General News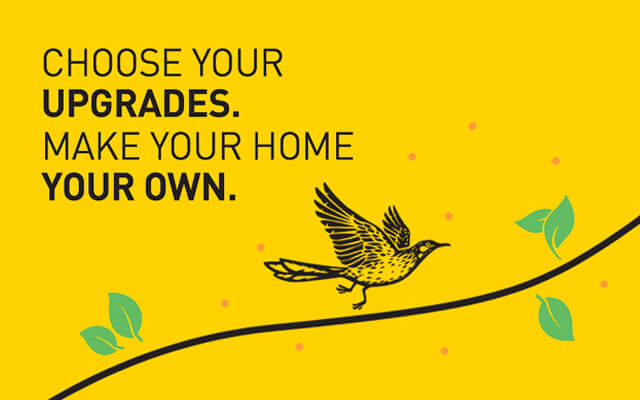 For a limited time, customers who purchase a home across the Dennis Family Homes range can access thousands of dollars' worth of added value upgrades to make their home truly unique.
Customers can choose upgrades to best suit their lifestyle needs now and into the future from our unique range of offers;
When purchasing a home from the Aspirations Series, spend $1,990* and get up to $15,000* on single storey homes and $2,990 for up to $20,000* on double storey homes to spend on upgrades you really want.
Purchase from the Inspirations Series of homes and spend $990 and get up to $15,000*, $2,990 for up to $25,000*, or $6,990 for up to $35,000*, worth of specific upgrades on single storey homes.
On double storey homes customers who spend $1,990 will receive up to $20,000*, $3,990 for up to $30,000*, or $7,990 for up to $40,000*, worth of specific upgrades.
"With this unique offer we are allowing customers the opportunity to use the upgrades to design their home just the way they want it," says Dennis Family Homes General Manager, Mike Butler.
"They have quite a degree of flexibility to choose their upgrades and customise their home to be unique to them," Mr Butler continues.
Upgrades can include both internal and external options.
"For some, the choice of kitchen and bathroom cabinetry, benchtops or tapware might be on their list, for others ceiling heights, staircases and lighting may suit their needs more. Outside ideal upgrades might cover render options, door upgrades and concrete paving – the choice is truly yours," confirms Mr Butler.
With home design options across the Dennis Family Homes range to suit every budget and customer need, you're sure to find your future home, and design it  – just the way you want!
Further information is available by calling 1800 Dennis, online at www.dennisfamily.com.au or in person at all Dennis Family Homes display centres.
Terms & Conditions Apply.
A comprehensive list of upgrades available is published at www.dennisfamily.com.au/terms-and-conditions. Pricing and values may vary depending on house type and building location, please see our Sales Consultant for detailed costing.
Back To Articles