How to Throw the Ultimate Dinner Party
June 2019 In Entertaining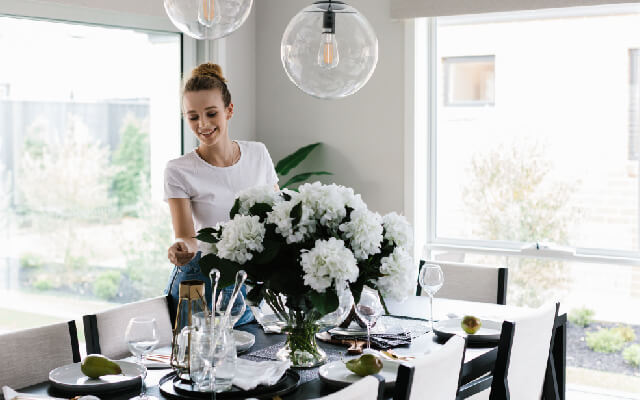 So you're thinking about throwing a dinner party, but not sure where to begin?
Whether you're new to the world of entertaining dinner guests or you're looking to raise your dinner party game, here are some ideas to help you create the ultimate dinner party your guests won't be able to stop talking about.
Start with a theme
Every standout event tends to follow a specific theme that ties everything together—and the same principle applies to dinner parties. If you want to host a dinner party that's a bit fancier than your regular catch-ups, a theme could be the thing that does it.
Some ideas could include anything from a Mexican fiesta, Parisian soirée or Hawaiian luau, to the roaring 20s or retro 60s, celebrity dress-ups, high roller casino, mystery masquerade or elegant black tie. You could even choose a favourite movie or TV show theme or host a 'whodunit' murder mystery evening.
Once you've settled on a theme, think about how you can incorporate it in your table setting, decorations, music and menu. You could even consider sending theme-specific invitations to your guests to give them an idea of what to expect or provide any special instructions.
Set the menu
It's not a dinner party without food, so it's important to pay some thought to the menu. Start off by considering any allergies or dietary requirements your guests may have, before deciding how many courses you plan to serve and choosing a few dishes that will work well together.
Try not to bite off more than you can chew and stick to things you can realistically prepare with a house full of guests—simple yet delicious dishes will always win over complicated concoctions you're not entirely confident preparing. It's also a good idea to choose dishes where most of the preparation or cooking can be done in the lead-up to your dinner party so you'll have more time to relax and mingle.
Another tip that will instantly elevate your dinner party is to have copies of your menu professionally printed. Place one with each place setting as a pleasant surprise for your guests to peruse over as they take their places.
Dress the table
It's also important to dress the table for the occasion. From your napery, placemats, crockery, cutlery, glassware and centrepiece or decorations, there's a lot to consider if you want to make a statement.
It may help to read our previous blog post about styling the ultimate entertainers table setting for some ideas and to make sure you've got everything covered.
Design a signature drink
While your guests may enjoy the usual offerings, it's nice to also give them the option of something a little extra-special that they don't get to sample every day.
Rather than attempting to design your signature drink from scratch, your best bet is to hunt around online for some recipe ideas before adding your own signature twist to make it unique. Make sure you do a test-run before the day so you know it's a winner and remember to give it a fun name to match your theme.
A good tip to free up time on the night is to pre-mix your cocktail or mocktail in a drink dispenser and give your guests free-rein to pour and top-up to their hearts' content.
Organise something a little special
While dinner parties are usually centred around food, drink and great conversation, there's no reason you can't do something a little left of centre to raise the fun-level and make it a night to remember.
Feel free to get creative by introducing a game or some form of entertainment. You could even invite a surprise guest along, or if you have some special news to share, make an unexpected announcement for your guests to revel in.
Another fun idea is to put together some party favours or gift bags to give to each of your guests as a thank you as they're leaving. Sure to please and impress!
An entertainers' dream
The other ingredient that's crucial to hosting the ultimate dinner party is a home that's set up perfectly for entertaining—with Dennis Family Homes, you could own a brand-new home that's an entertainers' dream for an affordable price.
From a show-stopping kitchen, open-plan living, a relaxing alfresco and space galore, we'll have a home design that's sure to impress even the fussiest of hosts.
If you want some more food for thought, have a read through our previous blog post about what to look for in a home if you love entertaining or drop into a display centre to sample some of our entertainers home designs in the flesh.
Your trusted Melbourne Home Builder – Dennis Family Homes – A Family Building Homes for Families
Back To Articles