What we're loving right now: Wallpaper
June 2018 In DIY & Home Improvements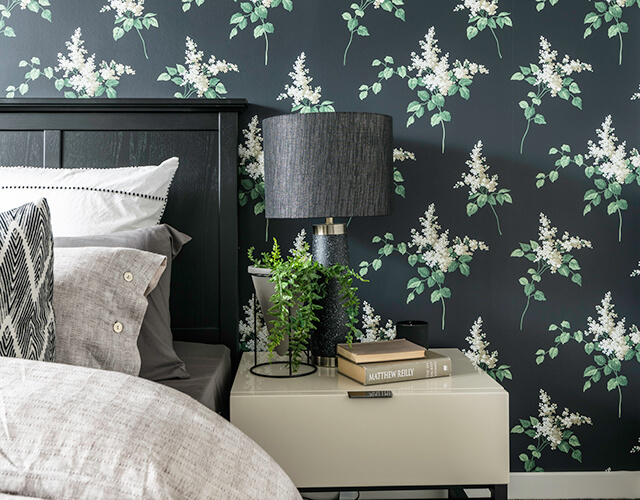 As a staple on the interior design landscape for as long as we can remember, it's not hard to work out why so many of us have a long-held love affair with wallpaper.
An effective way to add some warmth, interest and character to a space, whether you use it to create a single feature wall or wallpaper an entire room, it's one of the easiest ways to elevate an otherwise plain room to become a statement feature in almost any area of the home.
You don't even need to use it exclusively on your walls to enjoy the impact some well-chosen wallpaper can add—try wallpapering the backs of bookcases or wardrobes, or even frame some wallpaper offcuts and display them in other areas of the home if you want to do something a little different.
If you're thinking of making a statement with wallpaper, here's what you need to know.

How to select your wallpaper
With wallpaper designs available in almost every colour, texture and pattern imaginable, whether you're most drawn to geometric, floral, checked, damask, metallic, traditional or retro designs, the options are endless when it comes to selecting the perfect wallpaper for your home.
You can even use wallpaper to imitate a timber, tile or brick finish, or add a personal touch by developing your own custom or photographic design.
With so many options to choose from, selecting the right wallpaper can seem a little daunting, so here are some tips to give you a helping hand:
Consider the size of the space. Small-scale patterns will make a small room feel larger, whereas large-scale patterns can make a larger room feel more intimate.
Consider how you'll use it. If wallpapering an entire room, you're better off opting for a subtle design that won't overpower the space. Bold patterned designs can be dominating if used for an entire room and are generally more effective on a feature wall.
Define the mood you want to create. If you want to create a calm and relaxed atmosphere, opt for soft patterns in cool tones of blue, violet, green or grey. If you'd prefer a warmer feel, opt for more intricate or textured designs in energetic tones of yellow, orange or red.
Consider how it ties in with the rest of the home. If you plan to use wallpaper in multiple areas of the home, carefully select your papers based around a single colour palette or design theme to avoid creating a messy mishmash of patterns.
How to calculate how much wallpaper you need 
When ordering your wallpaper, you'll want to know exactly how much you need to avoid headaches and cost blowouts down the track. Here's a simple way to work it out:
Calculate how many drops you'll need: Measure the width of the wall/s and divide it by the width of the roll (usually 53cm, but you should check this first).
Calculate the length you'll need: Measure the height of the room from floor to ceiling to calculate how many vertical meters you'll need, also allowing for a few centimeters of overhang at each end.
Calculate how many rolls you'll need: Divide the length of the roll (usually 10 meters but it's important to check) minus the pattern repeat, and round up to the nearest whole number. It's also a good idea to purchase an additional roll in case you make a mistake while installing it.

How to install your wallpaper
Once you've selected your design, you'll need to work out how you're going to install it.
If you've chosen a detailed or geometric patterned design, you may be better off paying a professional to install it for you, as the cost of getting it wrong and starting again from scratch may outweigh the cost of paying someone to do it for you.
If you think you can manage it on your own, here are some steps you can follow which should help:
Prep your walls: Fill in any cracks or small holes in your walls with some filler before giving the walls a light sand. Then make sure you read the instructions included with your wallpaper before you start.
Mark your guide line: Measure the width of your wallpaper on the wall, then using a level and pencil, draw a vertical line down the wall which you can use as a guide to ensure the paper is straight when hanging your first sheet.
Cut your paper: Cut your paper to the height you need, allowing for some slight overhang at the top and bottom which you can trim with a sharp knife once its hung for a clean finish.
Mix and apply your glue. Prepare your wallpaper paste by following the instructions on the container and apply to the walls in the same way you would paint.
Hang your paper. Working from the ceiling down, hang your first sheet of paper following the guide lines you marked earlier, smoothing out any air bubbles with a smoother as you go. You can then repeat the process with the other sheets, ensuring you line up the pattern on each drop of wallpaper as you go. 

Need some more inspiration?
For more inspiration and ideas on how you can use wallpaper to bring a room to life, pay a visit to one of our Dennis display centres to see some of the effective ways you can use wallpaper to elevate the style and feel of your home. 
Your trusted Melbourne Home Builder – Dennis Family Homes – A Family Building Homes for Families
Back To Articles