Five advantages of a knockdown rebuild
October 2018 In DIY & Home Improvements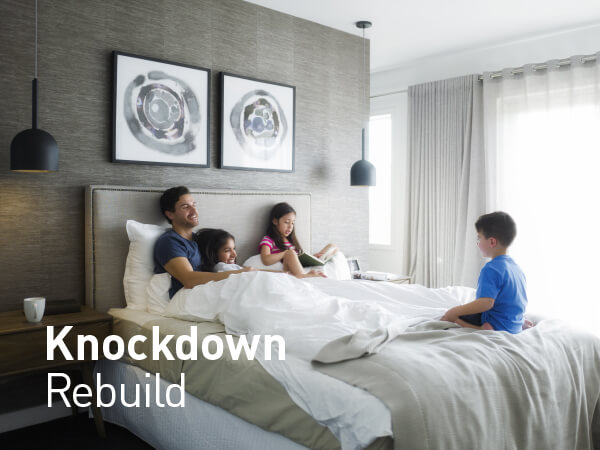 When looking to upgrade your lifestyle, there are plenty of options to choose from—do you renovate or extend your existing home to make it better suit your current circumstances, buy a bigger house in a more affordable location, or start over by demolishing and starting again.
If you're toying with the idea of a knockdown rebuild, here are five reasons why it could be a great move.

1.   Your ideal location
Location, location, location. Arguably the most important aspect of any real estate decision. If you already live in a location you love but can't afford to upgrade to a larger home in the same area, a knockdown rebuild allows you to stay in your current location while upgrading to a house that's better suited to your current lifestyle.
Because it negates the need for the kids to change schools, alter your daily commute or move away from your family and friends, you won't need to make any drastic changes to your current lifestyle to upgrade to a more suitable home.

2.   Get the exact home you want
A knockdown rebuild essentially allows you to start again from scratch. Unlike renovating or extending, when you demolish and rebuild a new home, you're not confined to building within the constraints of the existing floorplan and design of your current home.
You have the flexibility to select the exact home design that you want that's equipped with all the features you want (and possibly even a few more), without having to compromise on anything. You'll be able to create your dream home with complete control to not only choose the most functional floorplan, but also your favourite façade, colour scheme and choice of fittings and fixtures.

3.   No nasty surprises
When you opt to renovate or extend your current home, you really are taking a gamble. While you may invest a significant amount of time and money into planning, researching and assessing how viable your ideas may be, you never really know what you're dealing with until you start construction.
Ultimately, because there's a lot of guesswork required when undertaking renovations or extensions, it's not uncommon to uncover things like asbestos, shoddy foundations or dodgy electrics, plumbing or construction once you start work—and by this stage, you've got no choice but to find the extra cash to cover the additional costs to rectify the issue/s.
When you opt to knockdown and rebuild, because you're essentially working from a blank canvas you're far less likely to come across any unexpected issues.

4.   More cost effective
One of the biggest motivators behind the decision to rebuild is cost. While many assume rebuilding is going to cost the earth, in reality it can prove to be far more cost effective than buying your dream home in your ideal suburb.
Because you already own the land you're building on, you only need to find money for the demolition and build of your new home, and with the exorbitant property prices being seen in major cities around Australia (particularly in Melbourne and Sydney), it can often prove to be the cheaper option.
Even more, when you opt for a knockdown rebuild with a reputable and cost-effective home builder like Dennis Family Homes, you can build a beautiful, stylish and functional quality home for an affordable price.

5.   It's easier than you think
Many home buyers are deterred from rebuilding because they think it's just too difficult. While yes, building can come with its challenges, the key here is to choose an experienced home builder that makes the whole process simple.
When you rebuild with the Dennis family, we'll provide you with a construction consultant who will guide you through the entire process using a clear, step-by-step process which covers everything from the initial assessment of your block, through to the day we hand over the keys to your new home.
Find out more about rebuilding with Dennis Family Homes or contact us for more information.
Your trusted Melbourne Home Builder – Dennis Family Homes – A Family Building Homes for Families
Back To Articles