Taking the guess work out of building your dream home
July 2020 In Interior Design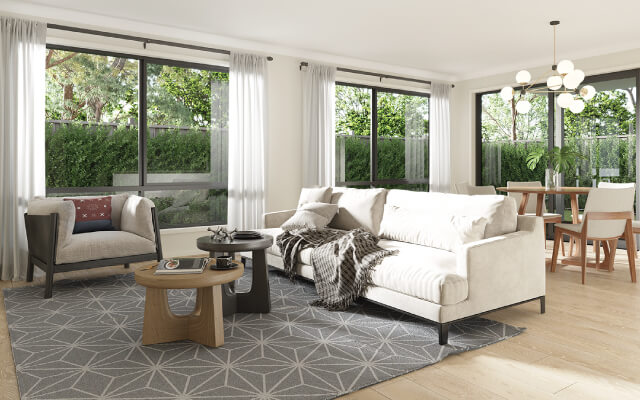 Building your dream home is a wonderfully exciting experience. Choosing everything from the materials and colours for your roof, floor, bathroom and kitchen tiles, through to the interior and exterior walls, flooring, carpets and cabinetry opens up a lavish array of possibilities.
On the flipside, being faced with so many choices and uncertainty about the potential outcomes can be mildly terrifying, especially if you have never before had to make such decisions!
Investors, too, often want to fast track the process of building wherever possible and may be less concerned about personalising the home they are building and more focused on maximising the potential return on their investment. 
Fortunately, help is at hand at Dennis Family Homes.
Interior and exterior colourboards remove the guesswork from the selection process and ensure your new home will look just as stylish as the display homes that may have inspired the selection of your home design.
*Pictured: Scandinavian colourboard.
Now the team from Dennis Family Homes is thrilled to reveal five brand new themes for the Aspirations Series interior and exterior colourboards.
"It is so exciting to share the new colourboards with our customers," enthuses Gail Connor, Senior Interior Designer with Dennis Family Homes. "The refreshed look and feel of the new themes capture the latest trends."
"They make it so easy to see how and why different colours and materials work together to create real impact."
The five new colourboard themes for the Aspirations Series are:
Classique – Stunningly simple, timeless and sophisticated, this subtle grey and white colour palette is stylish and contemporary.
Designer – The striking combination of bold contrasts and monochromatic grey tones make the Designer theme stylish and sophisticated.
Global Traveller – A warm colour palette of refreshing cream whites and contrasting dark highlights is beautifully complemented with natural materials.
Scandinavian – The modern Scandinavian theme is influenced by the Nordic landscape, with a calming, soft and minimalistic colour palette.
Shoreline – Coastal colours celebrate the Shoreline landscape, with a natural, cool colour palette to create a serenity of your own.  
Dennis Family Homes Aspirations Series Homes are simple, affordable, with no compromise on quality.
View our full range of themes here or get in touch and one of our knowledgeable Sales Consultants can discover your dream theme!
Back To Articles