The city and the surf: Get the best of both worlds in Geelong
July 2018 In Suburb Specific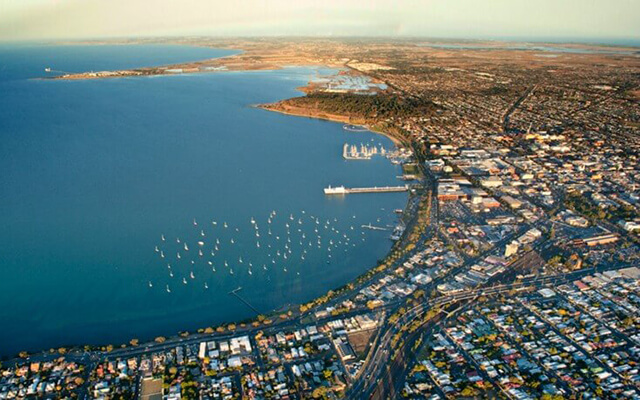 If you're toying with the idea of a sea change but don't want to give up the conveniences of your city lifestyle, we know the perfect location where you can make the best of both worlds—Geelong.
The city
Located around 75 kilometers south-west of Melbourne on the sandy banks of Port Phillip Bay, Geelong boasts a population of more than 240,000 people, earning it the title of Victoria's second-largest city.
With all the conveniences you'd expect of a large city including fantastic sporting and leisure facilities, a great range of shopping and retail options, a good selection of public and private hospitals and health services and an extensive public transport network, Geelong offers a metropolitan lifestyle in a coastal location.
Home to more than 17,000 businesses, including the Transport Accident Commission (TAC) and National Disability Insurance Agency (NDIA) headquarters (with WorkSafe also set to relocate there in 2018), Geelong residents can choose to either seek work locally or make the commute to Melbourne for work.
When it comes to education there are also plenty of options in Geelong, including a wide selection of both public and private primary and secondary schools, as well as several tertiary institutions including two Deakin University campuses and the Gordon Institute of TAFE.
But it isn't just the amenities on offer in the city of Geelong that are so attractive—it's the personality of the bayside city, which largely stems from its prized waterfront location.
Whether it's the iconic Baywalk Bollards, the Cunningham and Yarra Street Piers, Steampacket Quay, the Carousel pavilion, Eastern Beach or the great selection of waterfront restaurants and eateries, there's no denying that the Geelong waterfront is the real showstopper that sets the tone for this beautiful city.

The surf
Rarely do you get the opportunity to enjoy the best of city-living with beautiful beaches only a stones-throw away—but you do in Geelong.
With the spoils of the Bellarine Peninsula only a short drive from the heart of Geelong, depending on your mood you can take your pick from the calm and relaxing bay waters at Portarlington, or if you're after a little more excitement, the surf beaches in Ocean Grove and Barwon Heads.
Then there's Bells Beach. As the home of the annual Rip Curl Pro surfing competition, Bells Beach is one of Australia's most well-known surf beaches, characterised by its large swells and surrounding cliff faces. With neighbouring Torquay and Jan Juc surf beaches also close by, it's no wonder the area is so well-known for its thriving surf culture.
But the real benefit for beach-lovers living in Geelong is the ease of access to the Victorian Surf Coast. With the entrance to the world-famous Great Ocean Road on your doorstep, you have some of Australia's best beaches within easy reach. Whether you make the easy drive to Anglesea, Aireys Inlet or Lorne, or choose to drive a little further to Wye River, Apollo Bay or Cape Otway, you really are spoilt for choice for where you'd most like to spend your weekends.

The best of both worlds
You can enjoy the best of both the city and the surf every day when you make the move to Geelong, and with a Dennis Family Homes house and land package, you can get established within easy reach of the beautiful waterside city in a brand new, contemporary designed home for less than you think.
We have wide range of house and land packages to choose from in Armstrong Creeek, Mount Duneed, Curlewis and Drysdale, the Dennis family makes it easy to turn your dream of a sea change into a reality. Visit our Armstrong Creek display centre or contact us to find out more. 
Your trusted Melbourne Home Builder – Dennis Family Homes – A Family Building Homes for Families 
Includes information sourced from:
Back To Articles