Best ways to experience Shepparton
May 2018 In Suburb Specific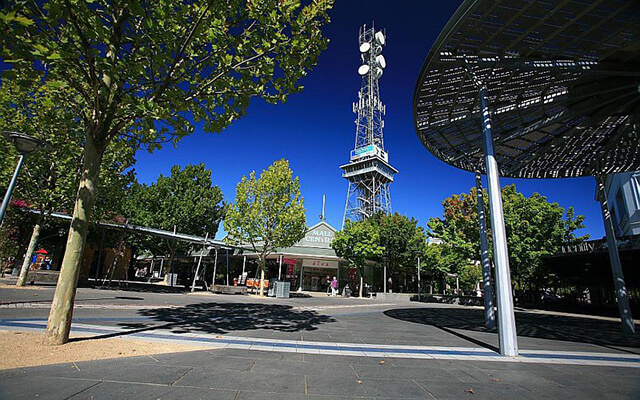 If you drive a little over hours north of Melbourne on the banks of the Goulburn River, you'll find yourself in the thriving regional city of Shepparton.
If you've never had the opportunity to get acquainted with this beautiful corner of Victoria, we've pulled together this shortlist of some of the best ways to get the 'Shepparton experience'.
Check out the Maude Street Mall
This cute outdoor mall is the city's main shopping centre and a great place to get a feel for the local culture and vibe in Shepparton. Enjoy a spot of shopping at some of the department, retail or speciality stores, or simply kick-back in one of the seating areas and enjoy some people-watching. Just off the mall you'll also find a communications tower with an observation deck which you can climb to enjoy views of the city and surrounding countryside.
 Get Mooving
Quite possibly Shepparton's most iconic attraction, the Mooving Art project has become a part of the city's landscape. This continually changing public art exhibition of more than 90 life-sized fibreglass cows which have been decoratively painted by local artists can be found in parks, gardens and businesses scattered throughout the municipality. See how many of the herd you can find using the Mooving Art Trail Map.
Let the kids run wild
If you have the kids in tow and want some activities that are sure to burn off all that excess energy, check out the Aquamoves water wonderland, the SPC Kidstown Adventure Playground which is home to giant slides, train rides and dairy maze, or the Go Jump trampoline park.

Catch a show
If you're a fan of performing arts, live entertainment and other events, check out what's on at Sheppartons' Riverlinks venues. Hosting everything from rock bands, musicals and orchestras, to drama, dance, comedy and circus shows, there's sure to be something for everyone.
Pay a visit to SAM
A visit to the Shepparton Art Museum (SAM) is a must for every art and culture enthusiast. Home to an extensive collection of historical and contemporary ceramics alongside a diverse range of other contemporary and Indigenous Australian art and changing exhibitions, it's a great place to get a taste of the more artistic side of the region.
Sample the local wines
The region is also home to some local wineries and cellars including Longleat Wines, Phillips Cellars and Regional Wine Centre and Tallis Wine, where you can sample some of the delightful varieties on offer.
Step back in time at the Motor Museum
If you're into classic cars, you'll fall in love with the Shepparton Motor Museum. Housing an extensive collection of more than 100 classic, heritage and muscle cars, motorcycles and vintage bicycles, pedal cars and other memorabilia, you'll leave with a deeper appreciation of Australia's rich motoring history.

Relax by the lake
In the heart of the city you'll find the Victoria Park Lake, which provides a tranquil and picturesque spot to enjoy a walk, cycle or picnic, or even try your luck with some fishing, bird watching or outdoor games.
Satisfy your sweet tooth
If you're on the hunt for a sweet treat, stop by the Chocolate Apple Factory where you can try some of their signature apples coated in caramel, chocolate and other edible treats.
Tour the surrounding areas
While Shepparton is very beautiful in its own right, you can grow a deeper appreciation for the region by touring some of the neighbouring suburbs in the local area. Check out what's on offer in Mooroopna, Dookie, Tatura and Murchison to get a better feel for the culture and lifestyle throughout the region. 

Experience Shepparton every day
You could experience the best of what Shepparton has to offer every day with a Dennis house and land package.
With a range of stylish and affordable house and land packages to choose from in Shepparton, Mooroopna, Kialla and Tatura starting from as little as $268,500, it's easier than you think to start enjoying the Shepparton lifestyle.
Contact us or visit our Shepparton display centre to find out how. 
Your trusted Melbourne Home Builder – Dennis Family Homes – A Family Building Homes for Families  
Includes information sourced from:
Visit Shepparton – http://www.visitshepparton.com.au/
Back To Articles