Top 5 must have house accessories
April 2018 In Interior Design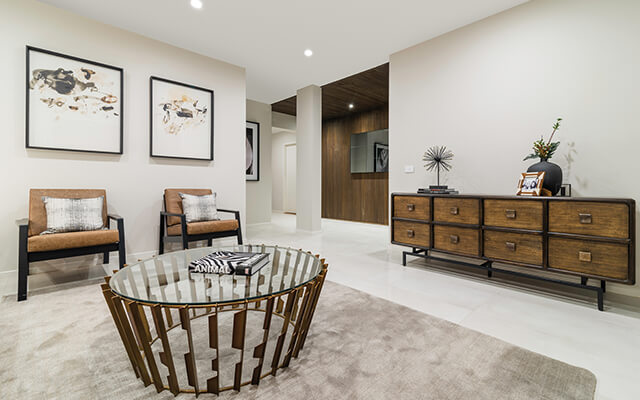 Setting up a new home is an incredibly exciting time and it's very tempting to race out and buy everything all at once.  
Too often, buying something in a rush can result in a design decision you will regret.  You may end up with a 'matchy matchy' interior that lacks personality, or even worse, a really uncomfortable couch that you don't enjoy sitting on!
So take a deep breath, slow down a little and tell yourself that you are only going to buy things you really love, even if it takes a little longer to get your home just the way you want it.
Start off by flicking through a few interiors magazines to identify a look you love as this will serve as a guide along the way. Also, have a look Dennis Family Homes Instagram for inspiration.
The interior design process begins with that one big ticket item – the couch.  Take a look at this beauty in the new Dennis Family Homes display at Woodlea estate, Rockbank.  Select one that is the right size for your living area and the very best quality you can afford.  Any interior designer will tell you that a couch is one item of furniture where you really do get what you pay for.  Buying something cheap that looks great may leave you with some money left over, but it will wear badly and could develop structural problems sooner rather than later.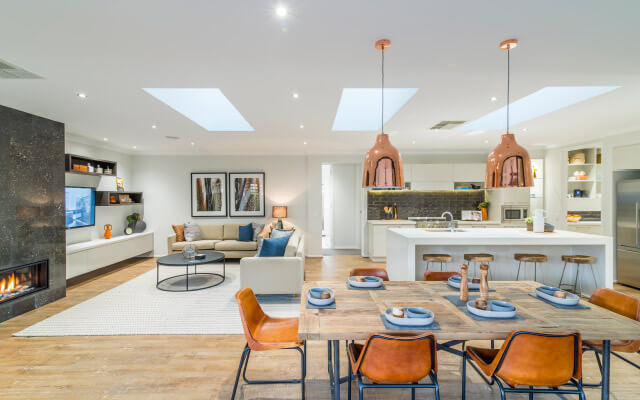 And believe it or not, a large item like a couch will actually help you along the way with your next purchases.  Once you have a statement piece, choosing accessories like cushions, wall art and even a TV cabinet will seem easier as you will be looking for something that complements that One. Big. Piece.
Next on the list is a dining table that contributes to your overall look.  Avoid buying a table and chairs set from a major retailer or your dining space will end up looking like a furniture catalogue.  You can go high-end with a brand new table – or save a bit of money by selecting something as simple as an old farmhouse table.  Modern chairs can make the most knocked-about table look great. In the Mickleham display at Waratah Estate, Dennis Family Homes' designers combined a classic table with on-trend chairs to achieve a great look. Chairs are also easy to change now and then to create a different vibe, especially if you are working with a relatively simple table design.
Most new homes today have hard floors in the living spaces – either timber or tile – which contribute to a low-maintenance, classic look. The best thing about hard floors is that you will need to get a great rug! 
So, have a seat on your new couch and take a little time to look around your living room, considering the colours and textures surrounding you.  By now you may have a couple of cushions, side tables or pictures on the wall.  Maybe you have a cabinet or dresser that your grandma passed on to you.  Look at the colours, tones and textures of the furniture and use them to help you find a rug that reflects or complements these design features.  Try not to introduce new accents with a rug as it may end up looking like there is just too much happening in the room. 
If in doubt, go for something plain that is a large enough to sit under your couch.  The Dennis Family Homes' Armstrong Creek display at  Warralily Coast Estate features a plain rug to great effect.  A mistake many people make when buying a rug is to choose something small that ends up laying halfway between the couch and the TV looking a bit cheap.  Go Large.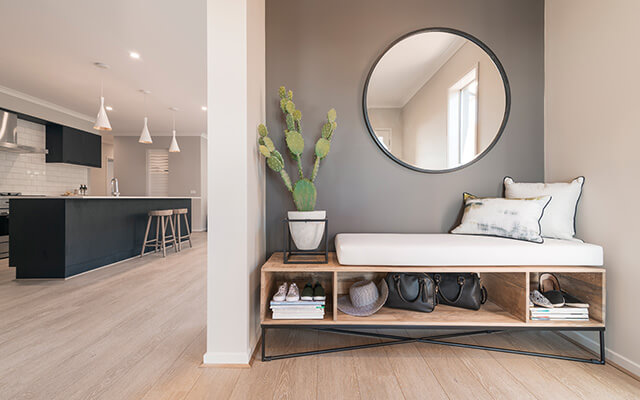 Once you have the big picture items like the couch, table and a rug you love, then let the fun begin.  Next on your list should be dining chairs and a coffee table.  Because you have selected well with the first items, you will have no trouble injecting more of your personality with the chairs and coffee table you select.  These are items that you can save a bit of money on by shopping around to find something peculiar on eBay or Gumtree.
Find something you love that will help make your new home feel like it is truly yours.  Take your time – it can be a lot of fun!
Back To Articles