How to raise the luxe-level with a perfectly styled bed
September 2018 In Interior Design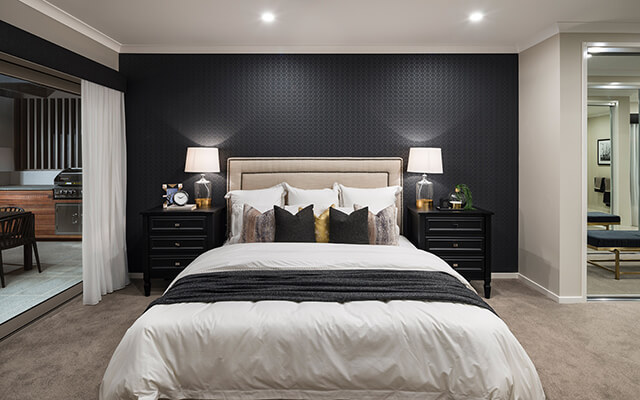 If you want to add a little more luxe to your life, a perfectly styled bed is a great place to start. Whether your bed is on display when guests visit your home or you just want to create a sumptuous private sanctuary where you can escape the chaos of daily life, few things compare to the gratifying indulgence offered by a beautifully styled bed. 
If you want to transform your bed from something dedicated purely to function to something a little more lavish, here's what you need to know. 
Choose your colour theme 
The first step to creating a perfectly styled bed is to select your ideal colour theme. By choosing your colour theme early in the piece, you'll have a much clearer idea of how to achieve your preferred look when selecting linens, cushions and accessories. 
If you're in need of a no-fail colour theme, take a look at our style theme gallery which showcases some perfectly curated colour schemes that you won't need to hire an interior designer to be able to replicate in your bedroom. Here's a quick run-down of them: 
Once you have a clear idea about your preferred colour theme, you'll feel more confident about using contrasting prints and textures that can help you create interest, while staying in keeping with your chosen theme. 
Set the foundation for a great nights' sleep 
Now you've chosen your colour theme, it's time to select the elements that will set you up for a great nights' sleep. 
Start by purchasing some high-quality sheets that will feel amazing to slip in between at the end of a busy day. As a general rule, the higher the thread-count the more luxurious they'll feel—however it's not only thing to consider. It's also important to consider the sheet fibre, as sheets with a lower thread count that are made from a superior quality fibre may prove to be more durable and feel softer than higher-count sheets that are made from an inferior fibre. 
If you want sheets that are cool and breathable, opt for 100% cotton sheets that will draw moisture away from the body, or if you want something that's really low-maintenance, polyester-cotton blends are typically very durable and wrinkle-resistant. You should also look for long-staple fibers (usually called pima, supima or Egyptian long-staple fibres) which will be less prone to pilling.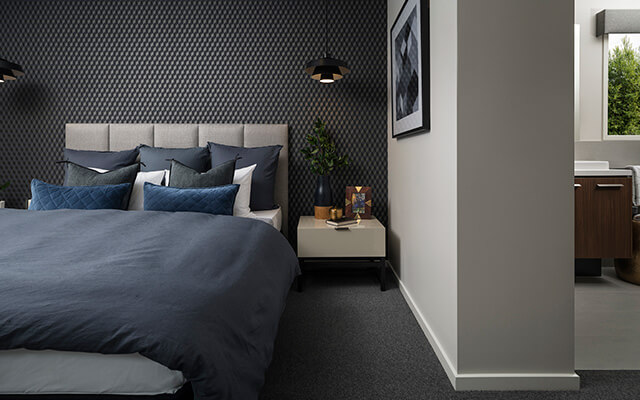 Next, you'll need to think about your quilt and pillow selections. 
Wool quilts are great at absorbing moisture and regulating temperature and can generally be used year-round, while cotton quilts are often thinner, lighter and breathable making them an ideal choice for the warmer summer months. Feather or down quilts are luxurious, warm, soft, light and fluffy so they look great, but they can trigger allergies for some people. If that's you, a polyester quilt could be a better choice, and they're also light, durable and machine washable. 
When selecting your pillows, you should draw a distinction between your 'sleeping' and 'display' pillows. It's worth investing in a high-quality pillow for sleeping, then selecting some fuller display pillows which you can use to style your bed. 
When setting up your display pillows, start by positioning two European pillows against your bedhead for height, then add four standard pillows (two on each side) either stacked or standing upright in front of them. This set-up is ideal for a queen-sized bed, however you can scale the number of pillows up or down depending on the bed size. 

Make a statement with some finishing touches 
Now you've set the foundation, it's time to add the finishing touches that will bring the look to life. 
Start by selecting a quilt cover that fits in with your chosen colour theme, then add some statement feature cushions to add personality and interest. There's no right or wrong answer when it comes to how many cushions to use, as this largely depends on the size of the bed, how bold or busy the bedding is and personal preference. However, don't be afraid to mix shapes, prints and texture as this is what will really elevate the style of the bed. 
Finally, invest in a good quality faux fur, chenille, tasselled, knitted or patterned throw to dress the foot of your bed and complete the look. 
Need some more inspiration? 
If you need some more ideas or inspiration on how to create a perfectly styled bed, you can see how the professionals do it by visiting the display homes at any of our Dennis display centres across Melbourne, regional Victoria or New South Wales. 
Your trusted Melbourne Home Builder – Dennis Family Homes – A Family Building Homes for Families
Back To Articles