How many cushions do I really need on a bed?
November 2018 In Interior Design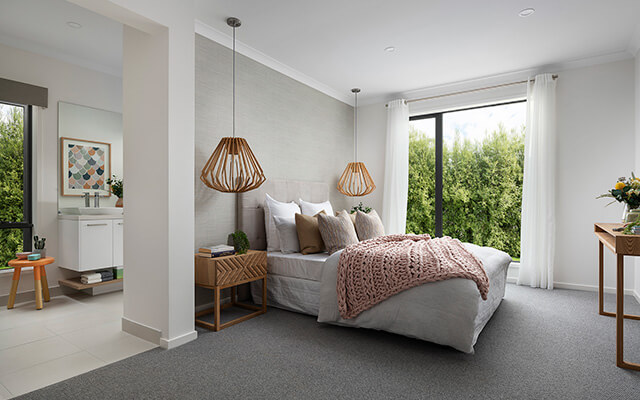 When it comes to creating a bedroom with a cosy and inviting atmosphere, nothing beats a beautiful arrangement of cushions. 
Cushions can instantly transform a room. They allow you easily freshen up a tired bedroom with a few splashes of the new season's colour palette or a bold contrasting pattern. They provide an inexpensive way to modernise your look without changing the entire room, and best of all, if you make a mistake or change your mind, it's easy to start again! 
When starting out it's easy to become intimidated by the sheer number of possibilities, so here are a few things to keep in mind. 

Colour and Texture 
There are infinite options when choosing cushions for your bed, so the first step should be to narrow down your selection to suit your bedroom style, with colour and texture playing a leading role in this. 
Consider the existing colours in the room, particularly your bed linen. Using various tones of the same colour is an easy way to create a soothing and modestly elegant look and removes the need to worry about complex colour rules and fussy matching. However if you want to be a little more daring, adding complementary or contrasting colours can be quite striking and add visual interest. 
If you like a relaxed and casual feel in the bedroom, you may want to consider a fuss-free palette incorporating greys, whites or tans, whereas if you want to create a luxurious and sophisticated retreat, opt for rich, jewel tones. 
Like colour, the texture of your cushions will have a significant impact on the overall impression of the room. Combining different textures not only creates visual interest and depth, but also contributes to the feel of the room. Smooth cottons and linens are fresh and crisp, while furs and velvet add warmth and cosiness. Woolen knits are an easy and subtle way to incorporate pattern when paired with solid colours, and fabrics with a slight shimmer add a sense of luxury. 

Size and Number 
So, how many is too many? The answer to this will largely depend on the size of your bed and headboard, your personal style and how willing you are to spend a bit of time each day positioning and removing your arrangement. 
Ideally, you don't want your cushions completely covering or extending above your headboard. While they can span the width of the bed, most arrangements look best when the cushions reach roughly two thirds of the headboard, leaving a third exposed at the top. Likewise, you don't want cushions completely covering up every inch of your bedlinen, so the smaller the bed, the fewer cushions needed. 
A good place to start is with a basic arrangement of 4 standard pillows, stacked horizontally for a low headboard or vertically for a headboard with more height. 
Coordinating your top cushions to your duvet cover in a matching or complementary design and having plain pillows underneath is a tried and tested formula that can easily be refined with the addition of a small accent cushion at the front. 
For those who wish to take it to the next level or have a particularly grand headboard, incorporating European pillows adds height and luxury without increasing the number of cushions. Layering Euros with standard pillows and smaller accent cushions give the polished and plush look of a formal bedroom, but be warned, this is not a low maintenance look and will require daily plumping and arranging. A basket in the corner of your room will ensure that any cushions removed at night are kept off the floor and out of the way. 

There are no rules 
When it comes to styling a bed, it all comes down to what mood you are trying to create and your own personal taste. There are no right or wrong approaches! 
Typically, the best way to find a cushion arrangement that works for you is by trial and error. Start with the basics and gradually incorporate other elements in as you go. Make sure to take a step back and consider what is working with the rest of the room and what may be lacking. Pay attention to elements such as artwork, décor and accessories and find ways of complementing them using colour and texture. 
Creating the perfect cushion display is an art, not a science. Be sure to play around with ideas until you find what looks best in your space, and if you make a mistake, it's easy to change and rearrange until find something that works so don't be afraid to experiment and have a bit of fun! 
Your trusted Melbourne Home Builder – Dennis Family Homes – A Family Building Homes for Families
Back To Articles