Where to find design inspiration before your colour appointment
December 2018 In Interior Design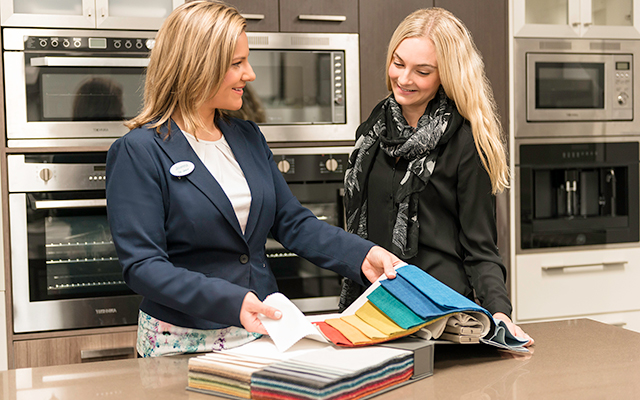 Adding your own personal style is one of the most exciting things about building your own home, and once the big decisions like location and design have been made, the fun can really start. 
When you buy a Dennis Family house and land package, you'll receive a professional Colour Consultation where you get to select the fittings, fixtures and finishes that will best reflect your individual sense of style and turn your house into a home. 
Doing your research and being adequately prepared with a clear idea about what you do and don't like will ensure that you are able to get the most out of your appointment. But where can you find inspiration? Luckily, we live in the age of smartphones and reno reality TV shows, meaning there's no shortage of sources for design inspiration—you just need to look around. 
Here are some of the best places to begin your search… 

Everyday life 
This is the simplest way to start building an idea about what you find appealing; while you're out and about each day, start paying attention to the design features and colours that catch your eye and take photos with your smartphone to create a shortlist of your favourite styles and features. 
You may find inspiration in the unlikeliest of places—a gallery, a trendy new café, at your local shops or even at a friend's home. Before you know it, you will have built a small collection of images that portray your some of your favourite colour schemes and design directions. 
Books, magazines and TV 
Books and magazines have been a long-time favourite when searching for design inspiration. Buy, borrow or browse through various interior design and lifestyle magazines to find which trends might appeal to you and see what could work with your existing furniture. Your local library is a great resource where you can explore the different styles and design elements popping up in the latest magazines and books for free; just remember to make notes or take photos of your favourite pages to bring along with you to your consultation. 
TV can also be a great source of inspiration. Next time you're relaxing in front of your favourite renovation reality show, pay particular attention to the features or rooms that most appeal to you. What is it that attracts you? Is it consistent with the mood or atmosphere you want to create in your own home? Does it mirror your existing style or a new style you want to explore? These are all factors that will help you better define your personal sense of style.

Online
Looking for inspiration online can be a double-edged sword—the amount of ideas and creativity is almost limitless and it can fast become overwhelming. 
For a little direction, use social media platforms like Instagram and Facebook to keep on top of current trends and looks by following a range of interior and home design pages and saving the posts that inspire you. Develop a collection of images that capture the look you are going for, then you can refer to them during your colour consultation. 
Home and design blogs and galleries are another online resource that provide a wealth of inspiration. The Dennis Family Homes website gallery is great if you want to explore a particular design theme or room, and you can even use the filters to see how it comes together in each of our home designs.
Pinterest
While technically another online source of inspiration, Pinterest is also so much more. Once you've started gathering ideas and images, you're going to need some way of organising them: this is where Pinterest comes in. 
If you've never used it, Pinterest is a bookmarking site that allows you to create virtual inspiration pin-boards. The images you save to your boards can come from the Pinterest site itself (including from other users), from websites or can be uploaded from your phone or desktop. You can have boards for each room of the house, or boards dedicated to different styles or looks. 
This approach allows you to arrange your ideas before committing to a favourite theme or design plan. 
Unlike traditional inspiration boards, a virtual pinboard can be changed or deleted easily and you can have as many as you want. You can even follow other members to keep up-to-date with what they add to their boards. Check out Dennis Family Homes on Pinterest for some ideas on how to get your inspiration boards started. 

Style comes as standard with a Dennis Family home 
When creating a new home, you want the flexibility to design a space that reflects your family's unique personality. When you build with Dennis Family Homes you can customise your home in a style that speaks to you; from the colour of the façade to the interior fittings, fixtures and cabinetry. 
Our Aspirations range offers simple yet stylish additions to your contemporary home, while those wishing to add a touch of sophistication will love the premium inclusions withs the elegant Inspirations range. 
No matter what your budget, taste or style, Dennis Family Homes can help you design a dream space for you and your family. Visit a Dennis Family Homes display centre to sample the range of contemporary colours and fixtures we offer and see how they could work together in your home. 
Your trusted Melbourne Home Builder – Dennis Family Homes – A Family Building Homes for Families
Back To Articles