How to complete your home with the perfect artwork
October 2018 In Interior Design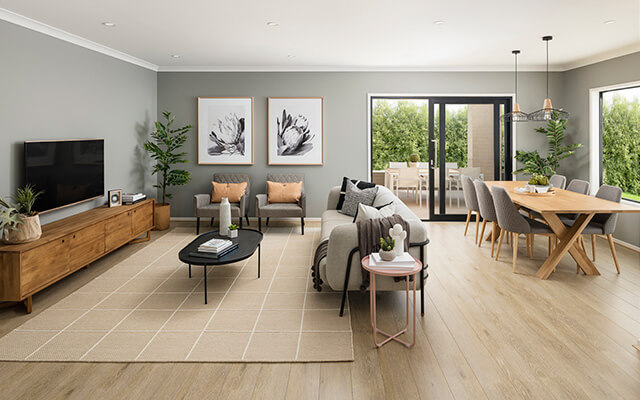 Trying to select the ideal artwork that will add the perfect finishing touch to a space in your home can seem intimidating, particularly if you're decorating for the first time and don't know where to begin—but it shouldn't be. 
That's why we've pulled together some of our top tips to help you select and hang artwork that will suit your style, home and personality perfectly and instantly transform your home into something Instagram-worthy. 

Define your style 
The first step to selecting the perfect artwork is to define your style. Do you want to create a casual and relaxed atmosphere in your home, or would you prefer to create a more formal, luxe or glamourous personality in your home? 
If you want to set a formal tone, opt for structured or detailed artworks in rich, moody colours and frame them in black or dark-coloured timber frames. Alternatively, original oil paintings framed in elaborate metallic frames will also do the trick. 
If you prefer for a more casual feel, unframed canvases depicting images of the seaside or nature will work well, as will bright and colourful abstract pieces. If you'd prefer to steer clear of traditional artworks, you could also consider framing some old maps or retro poster prints in white, light coloured or blonde timber frames to create a relaxed yet finished look. 

One size doesn't fit all 
When selecting artwork, you should also be conscious about the size of the space it will be used in. While large, oversized artworks can be a great way to make a big statement, if you only have a small area to work with a large artwork may dominate the space too much and potentially lose some of its impact. 
As a general rule, an artwork can comfortably cover approximately half to three-quarters of the vacant wall space without overpowering the rest of the area. Also keep in mind that you're not necessarily limited to selecting a single artwork—a series of two or three related pieces or a collage of different smaller pieces can be just as effective. 

Match your colours 
The trick to making your artwork fit seamlessly into a space is ensure the colours used in the piece connect to the other colours used in the rest of the room. This could include things like window coverings, furniture, soft furnishings or other decorative pieces. 
While you don't need to replicate every colour used in your artwork, if you select one or two of the dominant colours from the piece and repeat them with a cushion, throw or vase in the same colour in another place in the room, it will draw an instant connection between the artwork and the rest of the space. 

Hang it like a pro 
Now you've selected the perfect piece (or pieces), you'll need to know how to hang them. Here are some tips to help you hang your art like they've come straight out of a gallery: 
Aim to hang the centre of the artwork at most people's line of sight (approximately 1.5 meters from the ground). If hanging your art above a piece of furniture, aim to leave a gap of at least 20 centimetres between the bottom of the artwork and the top of the piece of furniture.
If your artwork has a hanging wire, measure the distance from the top of the frame to where the hook will be positioned when the wire is taut to work out where to place your hook. If you're hanging a canvas without a hanging wire, measure to the top edge of the lip of the frame.
If hanging a series of artworks side-by-side, ensure you leave at least 5cm between each piece and use a level to ensure your markings are straight before hammering in your nails.
Select hooks that are suitable for the weight of the artwork. If the piece is quite heavy, try to find a stud in the wall which you can securely anchor the hook to.
If creating a collage, try cutting out pieces of paper the same size as each of the artworks and arranging them on the wall using blu-tac to work out the ideal layout before hanging them to save yourself having to rearrange them later.
If you're renting and can't nail hooks into your walls, there are a range of temporary removable hooks and hanging systems that you can use as an alternative, however you may be constrained when it come to the weight of the artwork. 
Your trusted Melbourne Home Builder – Dennis Family Homes – A Family Building Homes for Families
Back To Articles