Choosing a colour scheme for your new home
December 2017 In Interior Design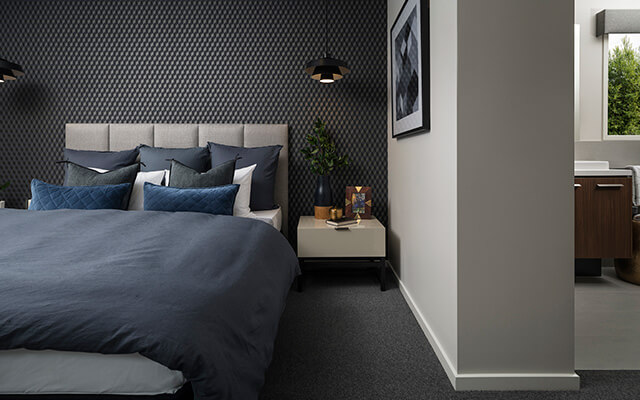 You may think when you purchase a house and land package there isn't much room to inject your own sense of style and personality into the home. But when you build with Dennis Family Homes, that couldn't be further from the truth.
We know how much our customers value having the flexibility to create a home that truly represents their personal sense of style and taste—after all, that's one of the best things about building a new home rather than buying an established property!
That's why when you decide to build with Dennis Family Homes, you'll have a personal Colour Consultation where you'll be able to select your favourite fittings, fixtures and finishes that will help you create a space that is a true reflection of you and your family.
Here's a taste of some of the stylish options you'll be able to choose from to help turn your house into a home …

The Façade
One of the first things you'll need to do once you've selected your favourite home design is choose your façade.
The façade is the first thing to greet you when you arrive home each day, so it's important to select a façade that most reflects the style of the home you want to create.
Whether you're most drawn toward coastal or resort style design, the clean lines and neutral palette of contemporary design or the beauty of classical design, most of our home designs offer a wide selection of façade options so where there's sure to be one that hits the mark.
In addition to choosing your ideal façade, you'll also be able to add a range of upgrade options to really bring your home to life. Why not choose a slim profile roof tile, Colourbond roof or why not upgrade to a rendered brick finished or add some feature tiles for a bit of sparkle?

The Kitchen
Next comes the heart of the home—the kitchen.
In the kitchen, you'll really be spoilt for choice with eight different island bench styles. Whether you want a benchtop with waterfall ends to create a stylish breakfast bar, cupboards to the rear of the island for extra storage and deeper kicker for a floating effect, or a benchtop with a shadow line and open shelf to the rear corner of the island to create a point of interest, the choice is yours.
Depending on the style of island you select, you'll also be able to choose from either 20mm or 40mm Caesarstone benchtops in 16 different colours, which you can finish off with either a double sink or double sink with drainer, plus your choice from five designer chrome tapware styles.
You'll also be able to select from eight overhead cupboard styles with either an exposed canopy or hidden range hood, combined with either standard or lift-up cupboards which are great for hiding away all your crockery and kitchen equipment, open shelves if you want your items on display, or a combination of both.
You can even select from one of four different fridge overhead cupboard styles, including cupboard doors, a large open shelf, a lift-up cupboard or open shelf divided into three sections.
But it doesn't end there. If your home design includes a butlers pantry, it will come complete with base cabinetry, tiled splash back, single bowl sink, matching chrome swivel mixer tap, coloured laminate shelving, plus your choice of either a 20mm or 40mm Caesarstone benchtop which you can match to the theme adopted in the main part of the kitchen.

The Master Ensuite
The master ensuite is another area of the home where you can really inject your own sense of style, starting with your choice of eight double vanity styles.
Whether you most prefer a wall hung floating vanity with thick stone benchtop, a slab style vanity with laminate doors complete with open shelf below, dual 'his and hers' vanities with recessed shadow line and connecting open shelf, or a block style vanity with waterfall ends, the choice is yours.
Some of the designs also offer the flexibility to choose between shelving, doors or drawers to the centre section of the vanity, so you'll have loads of storage suited to your personal preference.
Once you've settled on your ideal vanity style, it's up to you to finish the design with your choice from 16 Caesarstone benchtop colours, five basin styles, plus your favourite designer cabinet handles and AAA water efficiency rated tapware.

Bring your personal style to life
The choice is yours when you build with Dennis. Whatever your style preferences are, we make it easy to bring your style to life.
To get started, take a look at our range of beautiful home designs and house and land packages, or call us or visit one of our display centres to speak to someone in person about the great range of options when you build with us. 
* The selections included in this post are from the Inspirations Premium inclusions.  
Your trusted Melbourne Home Builder – Dennis Family Homes – A Family Building Homes for Families
Back To Articles