How to Choose the Right Builder
May 2022 In Home Buyers Advice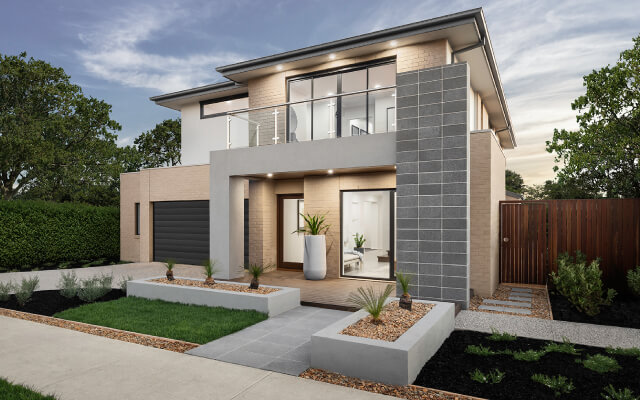 When building a new home for your family, choosing the right home builder is one of the first, and most important, decisions you'll make. Taking the time to really explore and research your options is vital when it comes to signing a contract with the right home builder, to ensure that you have a positive building experience and that the final project is exactly what you'd envisioned. 
Let's look further into some tips on how to choose the right builder, and what to consider during your research. 
The first step: Knowing what you want.
Figuring out what it is you actually want your home to be is the ideal first step when choosing a home builder, as you'll be able to match your values and needs with theirs. The home style you're envisioning for your project is something to take into consideration. For example, if you're a large family looking to build an extensive five-bedroom home, look for a builder who specialises in these types of expansive builds. Alternatively, if you're a downsizer wanting to build a compact single-storey home, don't choose a home builder who specialises in mansions. Choosing the wrong builder for your home type can mean they may not have the staff or trades to be able to complete your project, and will be scrambling to organise themselves. 
The design of your home is also something to consider. If you want to build a modernist home in a simplistic style, don't opt for a builder that specialises in rural farmhouses. Figure out what it is you want exactly for your home, and then choose a home builder that can meet your family's unique needs. 
What to look for when considering a builder.
Reputation and references.
When it comes to getting the best builder, making sure they have a positive reputation and great references is important. Often, choosing a builder that has excellent word-of-mouth and online referrals is better than choosing the big-deal household name with perceived security that might not actually provide you with the same level of service. In the end, reading reviews and speaking to past or current clients is the best way to gauge the quality and authenticity of your builder. A good builder will have no qualms with letting you speak to their previous customers, and should be able to provide you with some great references. 
The locations they specialise in.
Builders usually have a specific area that they specialise in building in, and choosing a home builder with a proven portfolio of projects in the area you plan to build in, can bring a number of benefits. Your home builder's pricing will likely be most competitive if you build in a certain area, so see whether your home builder has a sample of homes for your region. Forcing a builder to build where they aren't comfortable can bring issues like extra costs and possible delays on site. When putting a quote together, a home builder will usually add contingency money in case the project increases. You don't want to be paying for a builder's uncertainty or lack of knowledge regarding an area, so choose a builder that is confident in the area you're building in. 
Their brand, values and personality.
Building a home can be a lengthy and complicated process, however it all seems to move much more smoothly if you choose the right home builder! You'll be communicating extensively with your builder, so it will make your life a lot easier if you get along with them. 
You'll also want the value your home builder embodies to match your own. At Dennis Family Homes, we believe that every family should be able to afford a place to call home, and this is the principle that our founder Bert Dennis built his family business upon. We have a heartfelt commitment to values such as:
Honesty and integrity in our conduct
Passion for our business
Caring for our customers and communities
Vision for the future
Quality in our products and services
At Dennis Family Homes, we really are 'a family building homes for families'. Our numerous years of building experience promises your home will be well-designed and built to the highest quality. Most importantly, we'll ensure the home you choose will be the home you'll love!
What questions to ask when choosing a builder.
Before deciding on a builder to use when building a new home or doing renovations, there are some key questions to ask that will give you a thorough understanding of whether or not the builder is the right fit for your project. 
What are some examples of previous projects they've worked on?
How big is their team and how long have they been in operation?
What are their standard processes for planning, communication, feedback etc?
Have they been referred by someone, or do they have any trustworthy reviews?
What level of detail do they provide?
What is included in the scope of works they are proposing? 
And some questions for your builder later down the line:
Is this the optimal orientation of my home on the block?
Can my home design be flipped or rotated?
What size house do I really need?
Would an extra room be better than a bigger garage?
Should I save on air-conditioning by having ceiling fans instead?
Understanding the fine print.
As you move along through the building process, you shouldn't be afraid to ask your home builder what certain terminology means – in the end, they're the expert, and they should be happy to help you understand what's going on with your project! 
The same goes for looking at contracts from potential home builders. If there's something you don't understand, be sure to ask your home builder or legal advisor before you sign, and remember to raise any other concerns you might have BEFORE signing. Being thorough when choosing your home builder can avoid you landing in a world of pain, and will give you the peace of mind that you've made the right choice  for your new family home.
Find out more about what Dennis Family Homes has to offer by getting in touch with us or view our home designs!
Back To Articles