Does A New Home Increase In Value Or Depreciate Over Time?
October 2015 In Home Buyers Advice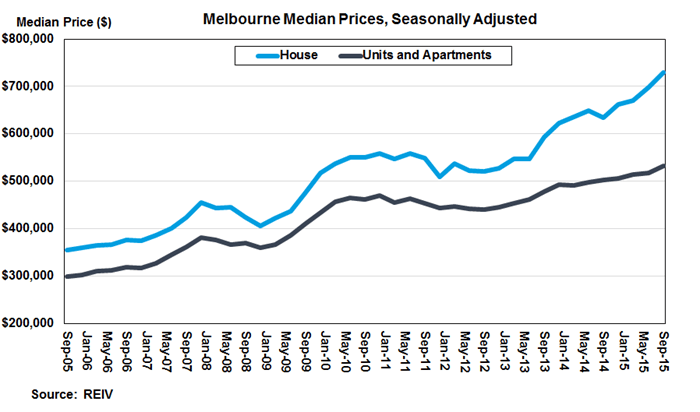 With home ownership being one of the largest financial commitments of most people's lives and with the ever changing cost of buying a home, it's no surprise that a common question is whether or not a new home increases in value or like a new car, starts to depreciate over time.
The answer is a little more complex than a simple 'yes or no' and can depend on numerous factors.
Property prices in Australia have increased steadily (often sharply) over time, but rather than the actual buildings increasing in value over time, it is the land that can be the biggest factor in value appreciation. After all, nobody can create 'new land' (or not yet anyway!).
So thinking along these lines, buying land and building a house or a house and land package, could mean you are much better positioned for capital growth.
Does that mean apartments don't increase in value? Of course not, but owning the land as well as the house might give you some extra peace of mind.
The old supply and demand rule is another huge factor in the value of your home. If demand to buy in the area is high but there is a limited supply of properties, then prices could increase.
Where things get a little more complicated are when you look at the actual home itself.
Quality of build and appearance
The quality and appearance of your home will be a deciding factor when it comes to long-term value. A well built and maintained home is going to be worth much more than a poorly built and maintained home, all things being equal.
If you are building or renovating a home, there are a number of assets that might help. For example: plenty of storage and a new kitchen and bathroom that have both up to date style and functionality.
It's important then, to make sure that when hiring a contractor to work on your property, they can translate your objectives into workable plans and have previous, substantial experience in those specific areas.
Some other factors to take into account when choosing your builder or contractor are:
Credentials: this doesn't just mean qualifications and references but also finding out if they have the right experience for your exact requirements and can they recommend reliable plumbers and electricians or do they have existing relationships with contractors?
Price: your contractor should have a very detailed breakdown of their prices – you can then ensure they're charging consistent prices for similar jobs and labour times going forward.
Communication: it's vital that you don't hire anyone to work on your property unless you feel you can trust and communicate well with them.
Contracts: this will help make sure that your expectations are aligned with what will be delivered. If you are building a new property keep the contract handy and make regular site inspections to ensure the project is progressing as agreed.
Hiring the right contractors to build or maintain your property will undeniably benefit its ongoing value.
If you build a brand new home, you know that maintenance and repairs should be minimal and the home is sure to retain its modern, fresh appeal for years to come.
Here are some tips to keep in mind though, to ensure your home is well maintained for if you want to sell in the future at the best price possible:
Maintain the entire exterior of your property with paint and/or varnish. This will prevent wood from deteriorating, keep the entrance attractive and help make a great first impression
Make sure your gutters are free of leaves and debris as this will ensure that water doesn't overflow or infiltrate the building and create damp – a common and incredibly frustrating problem
Keep an eye on trees that have roots underneath your property as these can create cracks in the ground and become a liability issue for you and your neighbours.
Roof repairs! Whenever and wherever you need them. Remember that roofing can last between 15 (more likely if you have asphalt or shingle) and 50 (if you have metal or tile) years
Regular cleaning on the carpets, bathroom and kitchen to avoid damp or alternative water damage. You may also want to consider repainting each room every couple of years or so to keep the interior looking fresh and clean
Plumbing is a common issue if your property is a few years old. Regularly check toilets, faucets and all pipes for leaks
If your house is wooden termites could be a risk but you can take steps to prevent infestations such as sealing cracks and holes on the outside of the house.
Finally, be sure to consult an expert when looking at how renovations can upgrade your particular property and also ensure you're not wasting money.
External factors that can affect the value of your home

In addition to your land, your home and demand for the area, there are a few external factors that can affect the value of your property too.
It's sensible to consider what's going on in the local area even beyond your immediate neighbourhood. Find out if there are good amenities nearby – is it a good catchment area for schools? Are there any businesses that serve the community well or on the flip side, may bring in an unwelcome clientele? And finally, is it an area that is poised for growth with investment lined up for the area?
In summary, when looking for a new home or property, look for an affordable property in the best potential location that is perfect for you and your family. This could be a large two or three storey house design with a garden and decking area, a dual occupancy home, a single storey home or something else entirely.
Tell us what a perfect home is to you and we'll do the rest.
You're trusted Melbourne Home Builder – Dennis Family Homes – A Family Building Homes For Families
Back To Articles