Rebuilding a better life with Dennis Family Homes
December 2021 In General News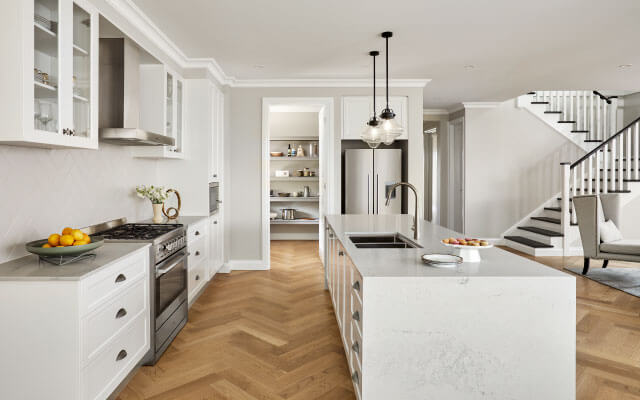 It's often said that there's no place like home. And that's especially true when it's a home you've chosen to satisfy your every need and it's being built in your perfect location. It may sound like a dream, but at Dennis Family Homes we can help you bring this fantastic vision to life with our incomparable Knockdown Rebuild service.
When you're looking to create your forever home, even the tiniest touch is of the utmost importance. We understand that, so we'll work with you every step of the way to achieve perfection. From helping you visualise every gorgeous, light-filled space to carefully considering the small details, our team of specialists know exactly what it takes to craft an impressive, modern home that will be uniquely yours.
Our Knockdown Rebuild approach
Actually, to talk about "our approach" wouldn't really reflect how we go about things. That's because what we really care about is "your approach". Once we've talked to you about your ideas, hopes and concerns, we'll start to draw up plans and map out a process that works for you.
After helping lots of other families on their Knockdown Rebuild journeys, the one certainty we've discovered is that everyone will approach things a little differently. And that's how it should be; after all, we're all unique and our homes (and how they're built) should reflect and celebrate this fact.
Here to help
It's stating the obvious to say that building a new home is an incredibly exciting time. But we wouldn't be telling the whole story if we didn't also acknowledge that it can also be more than a little daunting. After all, you're not only trusting us with the largest purchase you're ever likely to make, you're also entrusting us with your dreams.
Here's comforting thought number one: you have a location you love, whether you've recently bought a home specifically to knock down or you've been happily living there for years and years. So you already know that you're in the right place.
Now to comforting thought number two: when you choose Dennis Family Homes as your Knockdown Rebuild partner, you're getting a wealth of experience and the level of sophisticated finish that has earned us an industry-wide reputation for exceptional build quality. And we're a family-owned company with the sole focus of helping other families build their very best lives.
Personalise your dream home
With Dennis Family Homes, you can choose from a wide range of opulent floor plans built for the born entertainer, and select impressive designs that are perfect for harmonious living.
You'll be able to personalise your home to fuse contemporary styling with multi-functional practicality, making every day in your home an absolute dream. This is because we have a deep appreciation for the things that matter to you, including: quality workmanship, design excellence, and complete transparency throughout the entire process.
When we begin the Knockdown Rebuild process, from our very first conversation, we won't rest until we've earned your trust and you're convinced that we'll deliver your family the home you've always dreamed of, with as little fuss as possible.
And with every step along the way, our dedicated Knockdown Rebuild team will be on-hand to guide you through this wondrous experience and help create an exceptional home worthy of you.
What to expect with a Dennis Family Homes Knockdown Rebuild
Here are the ways we create a wonderful experience for your dream Knockdown Rebuild:
We offer a seamless and supportive experience
We work with you to ensure your new home design reflects your family and your unique version of luxury.
We follow a clear and transparent process
From our first conversation to the moment you receive your new keys, we're open and honest about what we can and can't offer. We do exactly what we say!
We create a home designed to exceed your expectations
Our professional and passionate construction team strive to create a home that delivers even more than you dared to expect.
So let's rebuild you a better life. Click here, call 1800 DENNIS or visit one of our two displays (Berwick Waters Estate, Clyde North or The Maples Estate, Greenvale) to speak with a Knockdown Rebuild Specialist today.
Back To Articles