The Ultimate New Home Buyer Checklist
September 2015 In First Home Buyers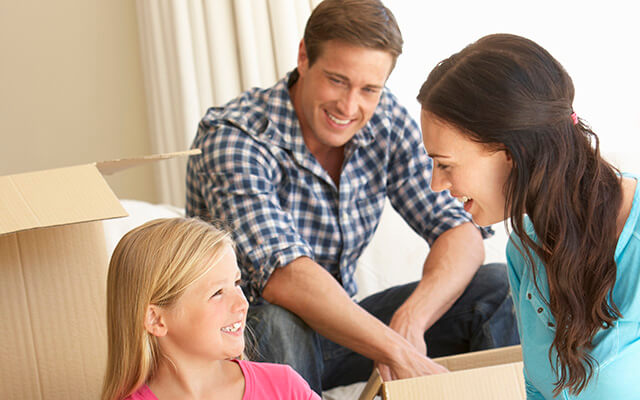 Your go-to list of what you need when moving into a new home
Moving into a new home is no doubt one of the most exciting times in anyone's life. But before you get carried away with thinking about what kind of pot plants you want in your home, what herbs you want to grow in your garden, and when you're going to have your housewarming party, there's quite a large list of things to be done before you can get truly settled in. You should be asking yourself, "what essentials do I need for a new home", and thinking about what tasks and errands need to be taken care of.
To help make things easier, we've given you the ultimate timeline of things that need to be done leading up to, during, and after your move into the new home – from preparation, to a full list of essentials to buy for a new home.
3-4 weeks before the move
Organise your removal transport
If you're getting help from professional removalists, be sure to book your moving day well in advance, as they tend to be busy. If you're moving everything yourself, then you'll still need to book your rental van or truck in advance to ensure you can get it on the day you need.
Get rid of unwanted furniture
Got unwanted furniture at your existing home, or have the previous tenants or owners of your new home left some things behind? There are a number of charities that offer a pickup service for furniture and whitegoods that are in good, clean and re-sellable condition (they don't take mattresses). Call your local charity shop, such as St Vincent de Paul, or The Salvation Army, and organise for them to come and take a look and see if there's anything they can take to be re-sold in their stores. That way, you'll know your furniture is supporting a good cause.
If your goods aren't wanted by the charity stores, good old Gumtree is a great way to find people who might be looking for what you're selling. Even if your items aren't all in great condition, there are countless DIYers out there who are ready to turn trash into treasure. If all else fails, most local councils entitle you to a certain number of free cleanup services per year.
Organise any painting
If you're moving into a previously owned home, and aren't sure about the colour or condition of the existing paint, be sure to paint well in advance of moving in, so that new paint smell has time to dissipate before you arrive.
2 weeks before the move
Change your addresses
Set out half an hour of time to go through all of your services and update your details about two weeks before you move in officially. That way, all of your details have time to be updated in the system. The beauty with most of these is that you can change them online relatively quickly, and you might even want to take this opportunity to switch to email billing if you've been meaning to do it for a while.
Your local state traffic authority (i.e. your driver's license) – Usually needs to be done in person

Electoral commission

Water (notify your local council)

Banks & credit card companies

Vehicle insurance company

Health insurance company

Doctor and dentist

Gym

Accountant

Your employer

Online shopping sites you regularly use (eBay, Amazon, PayPal, etc.)

Loyalty card subscriptions
Don't forget to tell your friends and family as well!
Research & sign up for necessary services
If you need to sign up for new services, such as a new phone or internet service provider, these things can often take weeks to get organised, as technicians aren't always available at short notice. Give yourself enough time, so that you can walk into a home that already has wi-fi and hot running water.
Home insurance

…………………………………………………………………………

Telephone & internet service provider

Gas

Electricity
Organise professional cleaning if necessary
Unless your home is brand new, you may want to book in a professional clean of the carpets and other indoor areas to ensure your home is fresh and as good as new.
1 week before the move
Change the locks if moving into a previously tenanted/owned home
Always a good safety precaution, as you don't know who might have accidentally (or on purpose) held onto copies of keys.
Plan out where your existing furniture is going to go
Take measurements of the rooms of your new house in advance, so you know where everything is going to fit in. That way, you can tell the removalists where to place everything, rather than having them dump it all in the centre of one room and you having to move it yourself later.
The day before the move
Put your everyday essentials in one place
Much like preparing for a flight the next day, keep one outfit, pyjamas, and all your everyday toiletries separate. You may actually want to fill up your carry on suitcase with these items, so you won't have to rummage through boxes later on.
Best to leave clothing on hangers, and lay them flat in the backseat of the car.
The first night in a new house always involves a bit of shuffling through boxes to try and find your toothbrush. Make sure you keep all of your essentials.
Ensure you've got some food (or the numbers of some local takeaway restaurants!)
It's easy to forget about food. Ensure you bring some snacks, and some food to cook for dinner and breakfast the next day until you've done your big grocery shop.
After you've moved in
Keep a running checklist of things you still need to buy or organise
No matter how well you plan and organise your move, it's inevitable there are will be small bits and pieces that you still need, and you'll usually only realise this just at the second that you need it (such as reaching for the kitchen scissors to open a particularly stubborn package of frozen peas, and realising that you don't have any). Be sure to keep a running list on the fridge, so that next time you go to the shops or the hardware store, you won't be scratching your head in the aisles thinking "what was that thing I needed again?"
Greet the neighbours
Be sure to take the time to pop round to say a quick hello to the neighbours at some point soon after you move in. It's always helpful to have someone you trust to keep an eye on things when you'll be away for longer periods of time.
What to buy for a new home
In amongst all of these to-dos, you'll also need to start buying all of the things you'll need to get your new home completely set up. Handy tip: If your new home is not too far away from your existing one, you may want to drop new items off right after you buy them, on the way home from the shops. That way you'll have less to move in one hit on moving day.
Here is an exhaustive list of absolutely all essentials (and we mean absolute essentials) you'll need to make your move as seamless as possible. Everything else (yes, even the coffee machine!) is essentially a luxury and can be purchased after you move in.
Furniture
Mattress

Bed base OR bed frame + bed head

Couch

Coffee table

Dining table & chairs

Tallboy

Wardrobe for hanging clothes (if no built in), or if space limited, a clothing rail

…….

Bookshelf

Desk
Bedding and linen
Pillows

Bed valance or bed base wrap (if you don't have a bed frame)

Mattress protector

Fitted sheet and top sheet set

Pillow protectors

Doona (you might want to consider one for summer and one for winter if you live in a climate that experiences strong temperature shifts between seasons)

Doona covers

Extra blankets
Kitchen
Plate & bowl set

Mugs

Drinking glasses

Cutlery set (forks, spoons, knives)

Frying pan

Small, medium and large saucepan

Cooking utensils – spatula, tongs, chopping knives, soup ladle

……………………………

Can opener

Serveware – Salad bowl and at least one large flat platter

Tea towels

Plastic tupperware
Whitegoods & small kitchen appliances
Washing machine

Tumble dryer (consider getting a two-in-one washer and dryer if space is limited)

Refrigerator

Microwave

Toaster

Kettle
Cleaning
Vacuum cleaner

……………………………………………………………………………………………

Mop + bucket

Indoor broom + dustpan

Iron

Ironing board
Personal items
Toilet paper

…………………………………………………………………………………………………

Kitchen roll

Garbage bags

Dishwashing liquid

Sponges for washing dishes

Antibacterial spray or wipes

Toilet cleaner

First aid kit
Gardening
Rake

Outdoor broom

…………………………………………………………………………………………………

Gardening gloves

Watering can

Hose

Lawn mower
Got any tips of your own to help make moving into a new home as smooth and stress-free as possible? Something else that should be on the above to-buy list? Let us know and make sure you don't make these first home buyer mistakes!
You're trusted Melbourne Home Builder – Dennis Family Homes – A Family Building Homes For Families
Back To Articles