How to make the most of summer at home
February 2019 In Entertaining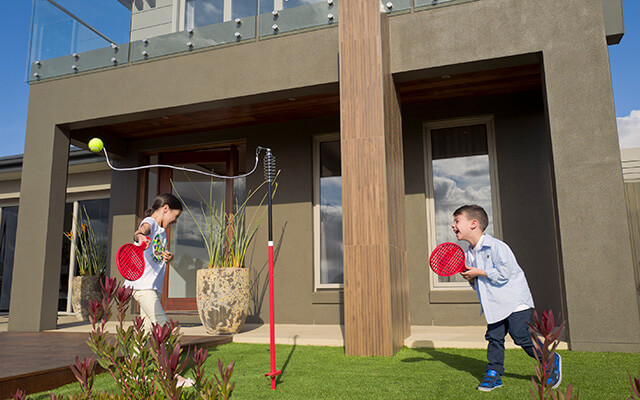 Summer is well and truly here, and if you're looking for some fun and inexpensive activities to do with your family while the weather is warm, there are plenty of things you can do without leaving the house. 
Here are some ideas of simple and fun things you can do at home with the family to make the most of the warm summer weather. 
Scavenger hunt 
A scavenger hunt in your backyard is easy to set up and can keep kids occupied for ages. Create a check list of things you can task the kids to find (a quick search online will give you plenty of ideas), hand them a basket or bucket and set your little explorers out on a mission to find and collect their treasures. 
Depending on the age of the child, you could give them some clues in the form of pictures, simple words (e.g. 'rock', 'leaf'), or more complex hints (e.g. 'something that starts with the letter S'). For older children, you could add a technological twist by making it a photo scavenger hunt with a list of images they need to capture on their smartphone or camera. 

Grow some herbs or veggies 
Starting a vegetable patch or herb garden is a great way to introduce kids to gardening and get them thinking about where their food comes from. 
There is a great sense of joy and accomplishment to be had from tasting something you've cultivated yourself and your children will gain a sense of achievement from watching their garden grow. It's also a fantastic way to encourage them to try new vegetables and sample unfamiliar flavours. 
Try to start small with a few pots or a raised garden bed, before expanding to a full the veggie garden as their confidence grows. 
Camp out in your backyard 
You probably have fond memories of doing this when you were a kid and thankfully it's still a winner with children today. Even if they don't end up spending the whole night out there (and chances are, they won't!) it's still a fun way to spend an evening together. 
Encourage the kids to help set up the tent and plan what items they'll need to pack; don't forget the sleeping bags, torches and snacks for an authentic camp-out adventure. 
Relax alfresco style 
There's really not much to it—make the most of your outdoor space by inviting friends or family over for a relaxed barbeque or drinks, unwind in an outdoor hanging chair with a good book or set up a hammock and enjoy a lazy afternoon nap. 
Water play 
As well as being one of the best ways to cool off on a hot day, a good old-fashioned water fight is great fun for both young and old. Whatever your weapon of choice – be it water balloons or water guns – you're guaranteed squeals of delight and a good soaking. 
Simple games such as 'catch' become instantly more challenging when you replace the ball with a water balloon, and kids can use bubbles or plastic cups as target practice for water guns.

Make some fun summer treats 
There's nothing like a refreshing snack to cool you down after some summer fun, and there are plenty of delicious treats that are so easy to prepare that even the kids can help. 
Icy poles, jelly and smoothies are simple and inexpensive to make at home, or jump online to find some tasty homemade ice-cream or frozen yoghurt recipes. Make sure you also take advantage of the many delicious summer fruits like mangoes, cherries and melons that are in peak season.
Outdoor movie night 
Bring the cinema to your backyard with an outdoor movie night. You'll need a projector, a device to stream your movie from and a surface to act as your screen (a quick search online for DIY outdoor movie screen tutorials should do the trick). 
Use bean bags, picnic blankets and scattered cushions to create for a comfortable seating area, and set up a little snack kiosk with drinks and popcorn to really enhance the experience. Invite all your friends and family around to join in on the fun and don't forget the mosquito repellent! 
Retreat to the air-con 
Once the kids are exhausted from all that playing outside and the afternoon heat really starts to set in, you may have no option than to head inside, crank up the air-conditioning, plant yourselves on the couch and enjoy some family bonding time. 
Play cards or a board game together, introduce them to one of your favourite childhood movies or get creative with some arts and crafts. 
We love summer as much as you do 
Moments spent at home with your family throughout the warm summer months will become memories that will be cherished for a lifetime—and what better place to create those memories than in a brand-new Dennis Family Home. 
Choose from an extensive range of summer-friendly home designs like the x, y or z that help you make the most of your outdoor space with open-plan living and a spacious alfresco that you'll be able to enjoy every summer. 
View our full range of contemporary home designs or visit a display centre to sample some of the possibilities when you build with the Dennis family. 
Your trusted Melbourne Home Builder – Dennis Family Homes – A Family Building Homes for Families
Back To Articles