Why the kitchen is the heart of the home
July 2017 In DIY & Home Improvements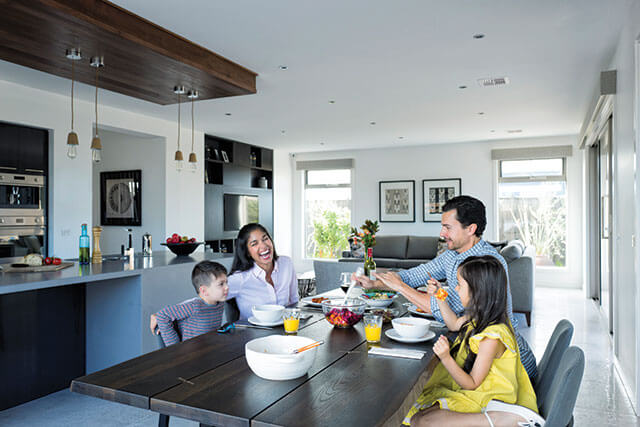 We all have them, we all use them and we can't live without them—kitchens. They're undeniably the heart of the home, so let's take a look at why we love them so much and how you can get the most out of your kitchen.
A place where families come together
There's no question that food is a key part of all our cultures, so it's no wonder the kitchen is often considered the central core of any home. But the role of the kitchen in modern culture extends beyond a space purely for cooking in—we also use the kitchen as a place to eat, to talk, to enjoy a cup of tea or coffee, or to do homework.
Today, the kitchen plays an important role creating a sense of connectedness among the entire family. Most contemporary homes now adopt an open-plan floor design with the kitchen flowing into the living room and possibly an alfresco area, creating a central hub for every member of the family to come together in a communal space, often making it the most used area of the home.

Intelligent design
Whether you're making a weeknight meal for the family, preparing a five-course banquet for a dinner party, or cooking a heart-warming Sunday roast, your kitchen needs to adopt an intelligent design to ensure it is functional and easy to use, making you feel like a contestant on Masterchef when whipping up your latest and greatest culinary creation.
At Dennis Family Homes we understand that great cooking always starts with a well-stocked pantry. That's why we've created home designs like the Brookdale, the Charlton and the Lakewood, where direct access between the garage and the kitchen makes it so easy to carry your groceries straight in from the car and immediately store them away in the pantry or refrigerator, ready for you when you need them.
Then when it comes time to cook, functionality should always underpin every smart kitchen design. That's why all our kitchen designs are intelligently designed to make them as efficient as possible to work in.
Whether it's incorporating the principles of the 'golden triangle' to create a good connection between the sink, refrigerator and stove, or it's the intelligent placement of the refrigerator in a space where the family can still access it without disturbing meal preparation, all our kitchen spaces are all designed to maximise efficiency.

A touch of luxury
The kitchen isn't purely there for function—it also plays an important role contributing to the luxurious feel of a home.
While a kitchen can still be highly functional when using a simple set of features and materials, it's hard to deny the added level of sophistication that comes with Caesarstone® benchtops, a walk-in pantry or soft-closing drawers. But if you're looking for the ultimate in luxury, a walk-in butler's pantry will truly elevate your kitchen to a higher level of luxury.
Imagine having your own butler's pantry like those in our Premium Upgrade Packages. Entertaining will be an absolute breeze when you have access to an area separate to the main kitchen complete with base cabinetry, shelving, sink, Caesarstone® benchtops, tiled splashback and power point, meaning you can do the majority of your preparation work out of sight, leaving your kitchen clean and tidy so everyone to relax and socialise in comfort. 

Create your dream kitchen with Dennis 
There are so many possibilities when you build with the Dennis family. With an extensive range of contemporary home designs and house and land packages, we can help you create the kitchen you've always dreamed of.
Visit one of our display centres or contact us and we'll show you how. 
Your trusted Melbourne Home Builder – Dennis Family Homes – A Family Building Homes for Families.
Back To Articles