The best of alfresco living
November 2017 In DIY & Home Improvements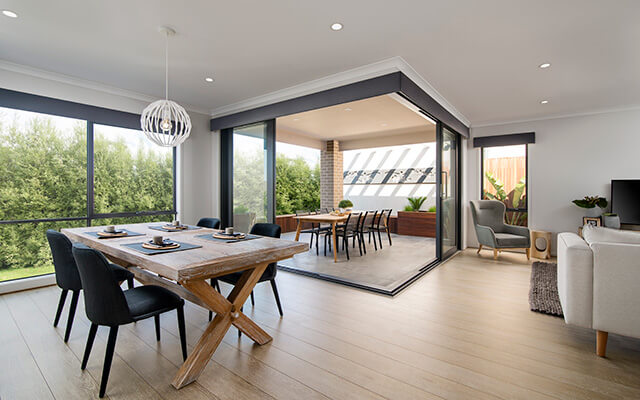 Spring is well and truly in the air now.
As the weather starts to warm up, most of us want nothing more than to step out of the dens we've been hibernating in throughout the cold Melbourne winter, to embrace the sunshine and fresh air that has finally arrived—and what better way to soak in the beautiful weather than on your own private alfresco.
Why we love alfresco living
It's no secret that Australian's love getting outdoors at every opportunity, but anyone who's lived in Melbourne for more than a few months will know all too well how unpredictable the weather can be—but with an alfresco you'll never need to worry.
Alfresco living means you won't be restricted to the confines of your home when the weather turns, but instead you can enjoy being outdoors while still feeling protected from the elements, year-round.
An alfresco not only expands the amount of usable space in your home by providing an additional outdoor room, but it also provides an ideal space for entertaining.
Whether you want to host a party, family BBQ or relaxed dinner with friends, with an alfresco you'll never need to have a 'back-up plan' ready in case the weather turns at the last minute, making playing host an absolute breeze.
Then if you want to take your alfresco to the next level, why not double your cooking space by creating an outdoor kitchen. Just imagine the feasts you could create when you put both your indoor and outdoor kitchens to good use at the same time!

Best alfresco Dennis designs
At Dennis, we know what Australian families look for in an alfresco—and we also know that no one alfresco home design will suit every family.
That's why we've developed a range of home designs that embrace alfresco living, ensuring we've got one that will suit your family perfectly no matter what your criteria is.
If you want an alfresco that is directly connected to the heart of your home creating a seamless flow between indoor and outdoor living, you can't beat a home design featuring dual-access from multiple living spaces like the Churchill, Hartley, Riverton or Whitfield.
If size is what matters most to you, we have plenty of options to choose from like the Charlton, Macedon and Lakewood home designs, which each offer floorplan options including an oversized alfresco with plenty of space to move.
We've even got alfresco home designs that can comfortably fit on narrow blocks, with the Bellarine, Casterton, Monarto and Olinda suitable for blocks 12.5 meters wide, as well as the super-slim Dalton which is suitable for blocks as narrow as 10 meters.
Whatever is most important to you, with so many Dennis alfresco home designs to choose from we're sure to have a home that ticks every box. Find the one that best suits your family by browsing through our full range of home designs or house and land packages, or by visiting a Dennis display centre. 
Your trusted Melbourne Home Builder – Dennis Family Homes – A Family Building Homes for Families
Back To Articles