How to style the ultimate entertainers table setting
September 2018 In Interior Design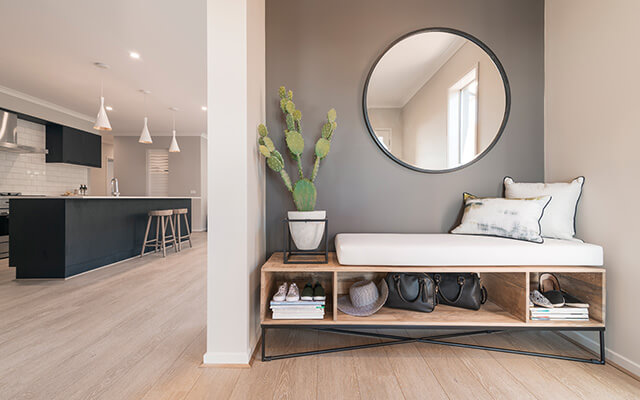 Whether you're an experienced host or a complete novice to the dinner party scene, if it's your turn to host the next catch-up, knowing how to create a beautifully curated table setting is a great way to add a touch of 'wow' to the occasion.
To help you on your way, we've pulled together some tips to show you how to style a table setting that's sure to impress your guests.

Pick your theme
A great place to start is by selecting a theme or colour scheme that speaks to the individual occasion and type of atmosphere you want to create.
If you want to set a formal or glamorous tone for the occasion, the drama created by a contrasting black and white colour scheme complimented by accents of metallics, marble or deep hues of purple, maroon, navy or forest green will achieve a classy yet moody look.
To create a more casual or relaxed table setting, opt for white or neutral colours as your base, then add one or two colour accents to create a bright and fresh look that's not too overdone. You can even incorporate some natural elements like bamboo or stone to add contrast while keeping with the relaxed theme.
Alternatively, if you want to achieve a more eclectic feel, opting for table wares in contrasting colours, patterns and textures will help you perfect the bohemian look. You could even try hunting around at some of your local second-hand or op shops where you may stumble upon some unique, character-filled pieces.

Styling your table setting
Now that you've selected your theme, you're ready for the fun part—styling your table setting. To make sure you've got all bases covered, here's a simple step-by-step guide to help you through the process.
Set the foundation
First, you'll need to set the foundation for your table setting starting by deciding if you'll use a tablecloth. While most contemporary table settings will opt to go tablecloth-free, if you're hosting a more formal event, a heavy linen or damask table cloth can help elevate your table setting to the next level (just remember to give it a fresh iron first).
You'll also need to think about how you'll dress the centre of the table. You may choose to lay a table runner down the centre of the table topped with an elaborate or dramatic centrepiece, or keep it really simple with a stand-alone vase of flowers or large candle.
When setting your centrepiece, just ensure you have practicality in mind, keeping enough free space to place condiments and serving dishes on the table where needed.
Lay your place settings
Now you're ready to lay your place settings. Work out how many guests you'll have and start by placing chairs around the table, giving each of your guests equal and ample space to relax. Then lay a placemat at each place setting.
When creating your place settings, stacked settings with dishes for each course placed one on top of the other will not only create a layered look, but will also prove to be practical as each course is finished and dishes are removed from the table without the need to reset the table in preparation for the next course.
Lay the largest plate for your main on the bottom, followed by a folded fabric napkin or paper serviette, finished off with a smaller bowl or plate on the top. 
Add the finishing touches
Finally, you're ready to add the finishing touches.
When laying your cutlery, while you don't need to overthink it, the basic rules to follow are to lay your forks to the left and your knives to the right and lay them in the order meals will be served in, working from the outside in. If you'll be serving a course that requires a spoon, lay them on the right in corresponding order with the knives, of for dessert spoons or forks, you could lay them horizontally above the setting.
When setting your glass wear, it entirely depends on how formal you want to go. Generally, a water glass and/or a wine glass placed to the top right side of each setting would be sufficient, but if you want to go all-out, lay them in the order they will be used working from the outside in (or you can place smaller glasses in front of larger glasses).
Now your settings are complete, do a once over to make sure everything is neat and aligned. While you don't need to pull out a ruler to everything is in position as if you were hosting June Dally-Watkins or the Queen, ensuring everything is presented nicely will finish of your table setting nicely.
Your trusted Melbourne Home Builder – Dennis Family Homes – A Family Building Homes for Families
Back To Articles